[ad_1]

Earlier this year, in preparation for the launch of its Airbus A330neo flights, Condor Airlines invited Simple Flying to fly on the inaugural Seattle to Frankfurt flight. While my ticket was provided, I would like to point out that all opinions expressed in this review are entirely my own. The inaugural was set to take place in February but was canceled because of airport strikes in Germany. After months of planning and experiencing delays, Condor hosted an event at Seattle Tacoma International Airport last Thursday to celebrate the arrival of the new aircraft in Seattle. While it was not the first time a Condor A330neo landed there, the airline personnel's enthusiasm made it seem like it was.
On the ground
I arrived at the airport earlier that day from San Francisco International Airport on a United Airlines flight and remained in the terminal to take advantage of my Priority Pass access and do some work before going to the Condor check-in area. Since I was already airside, I did not need to go to the check-in desk, but I wanted to cover the Condor experience from the very beginning.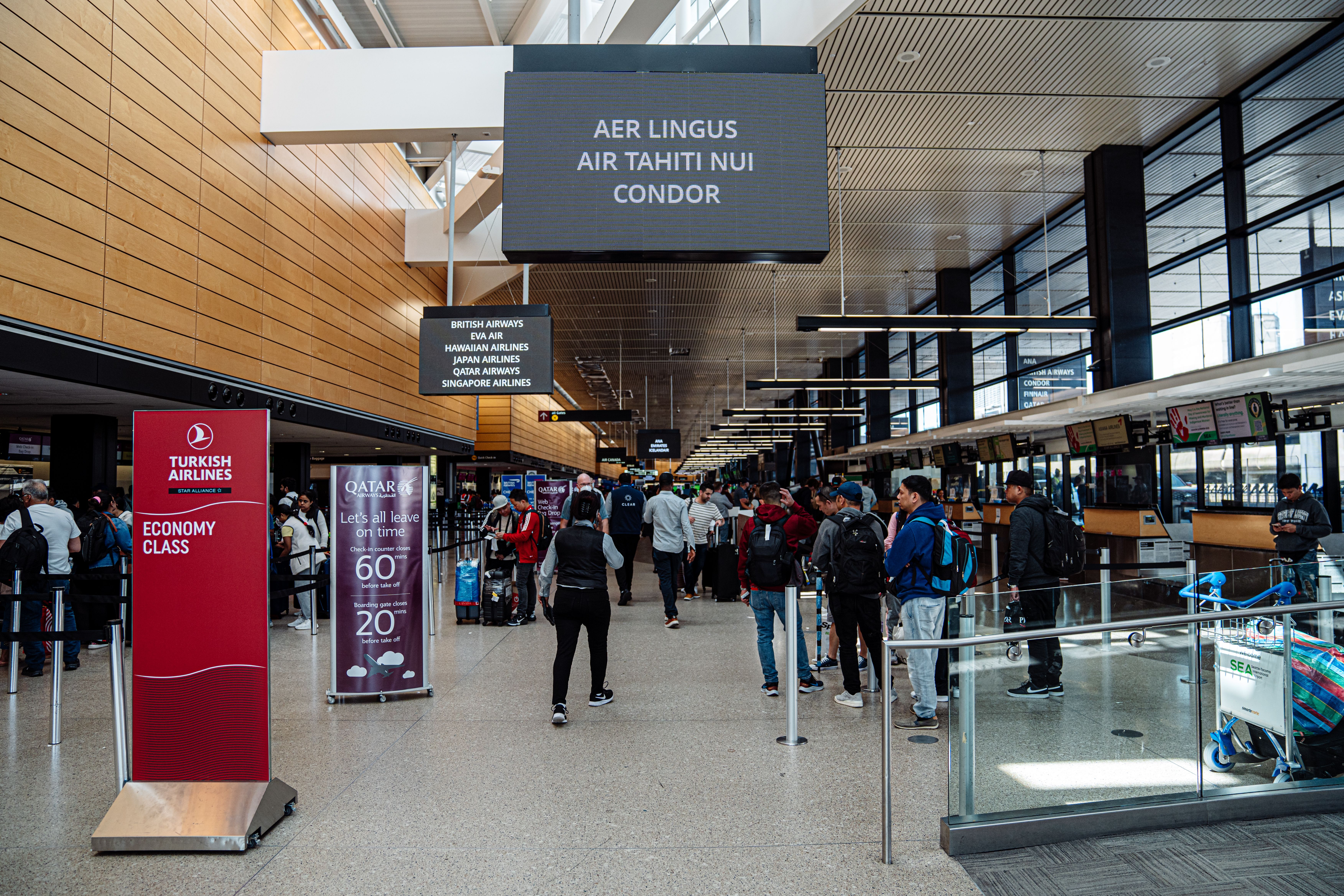 Photo: Lukas Souza | Simple Flying
The Condor desk was straightforward to find, especially as I picked up my bag at a United desk right below Condor. Check-in is located at the very end of the terminal, right at the exit of the brand-new International Arrivals Facility (IAF). LED signs suspended from the ceiling listed airlines by name, making the Condor desk easy to locate.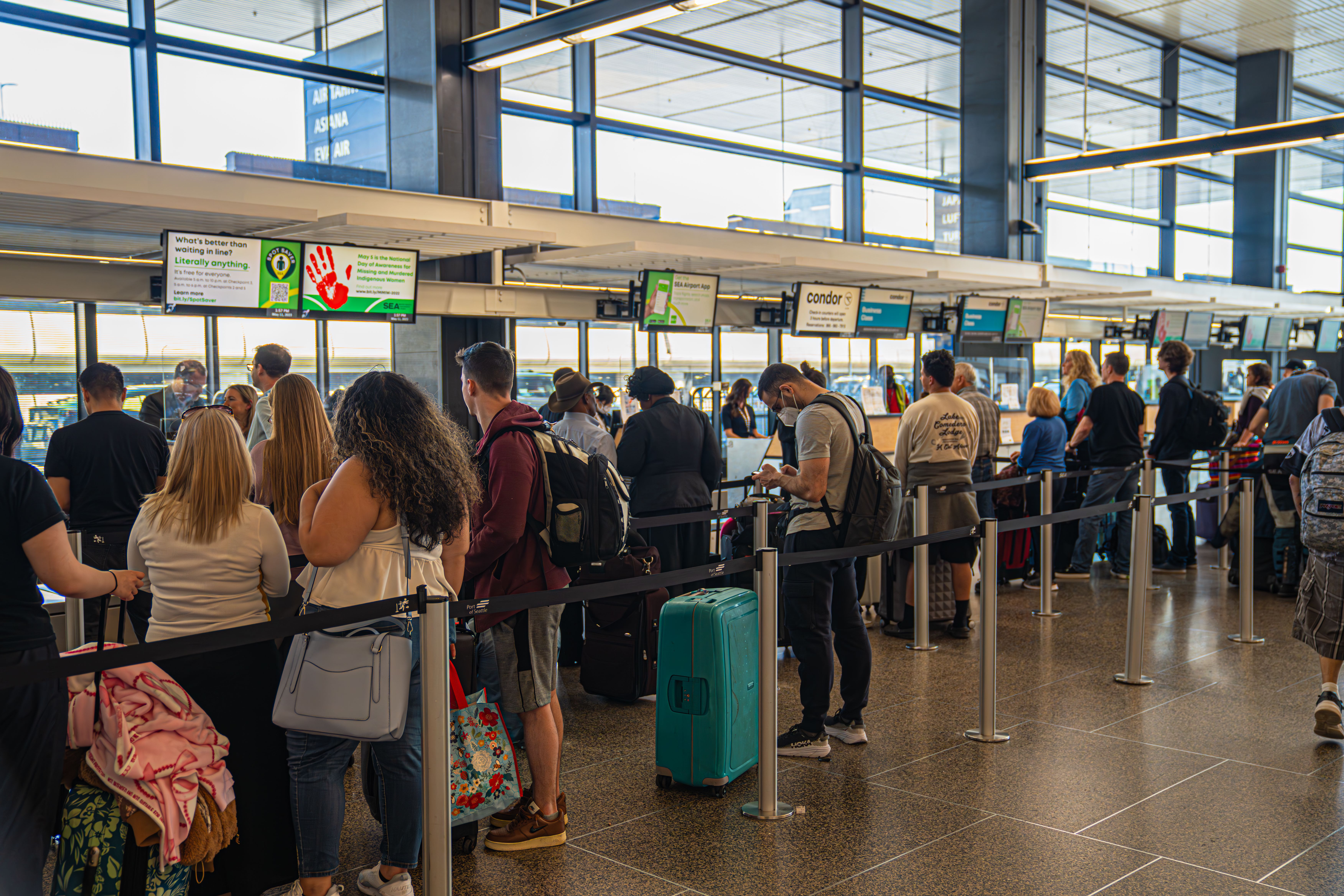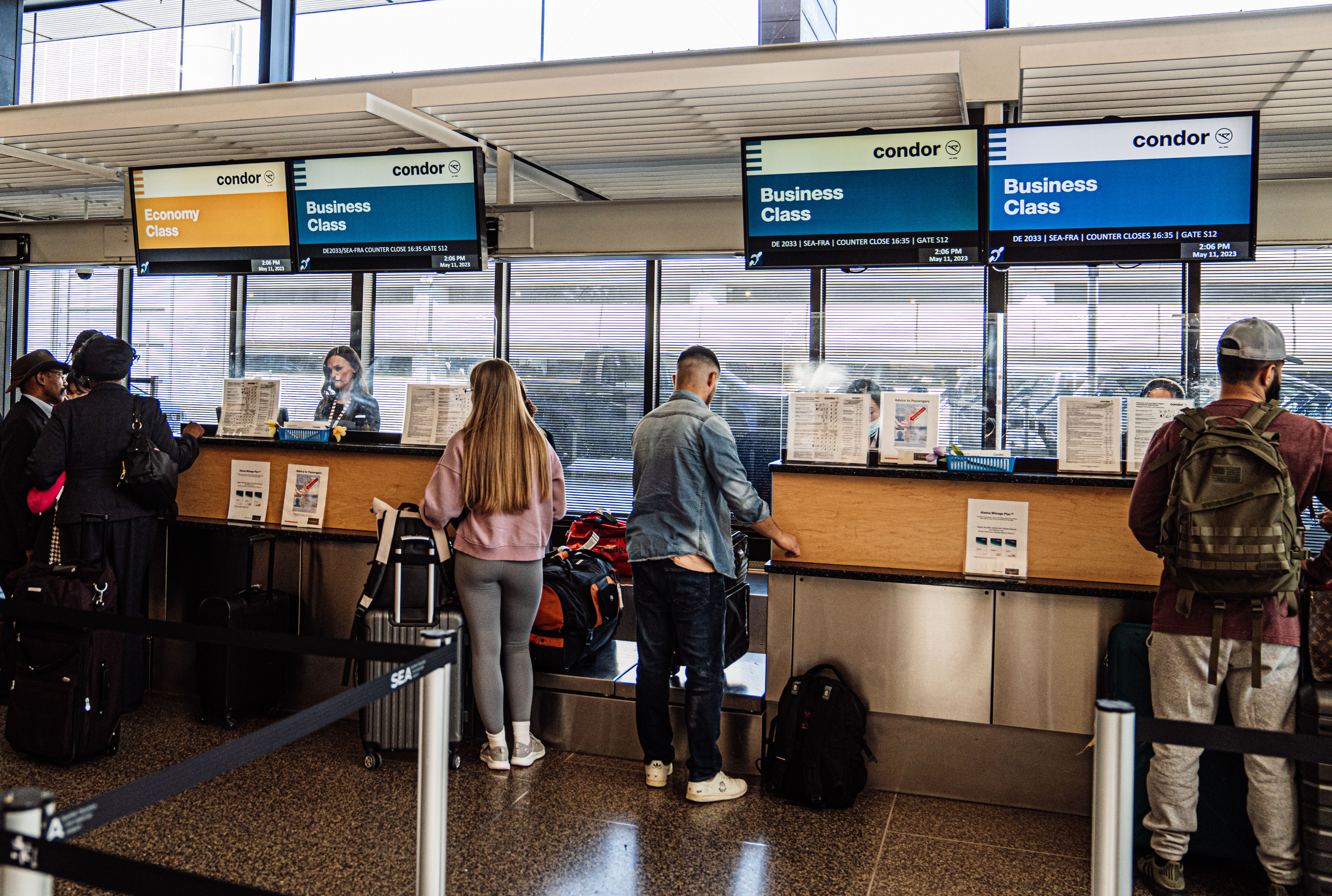 When I arrived, the desks were closed as it was more than three hours before the flight, but Condor staff was already there preparing for the flight to Frankfurt. From the moment of my arrival, it was evident that Condor's new livery is not just a brand on the aircraft but a brand spread across everything the airline produces. Media were greeted and given badges attached to striped lanyards, each displaying a color of one of Condor's aircraft. As shown in the image below, mine was yellow.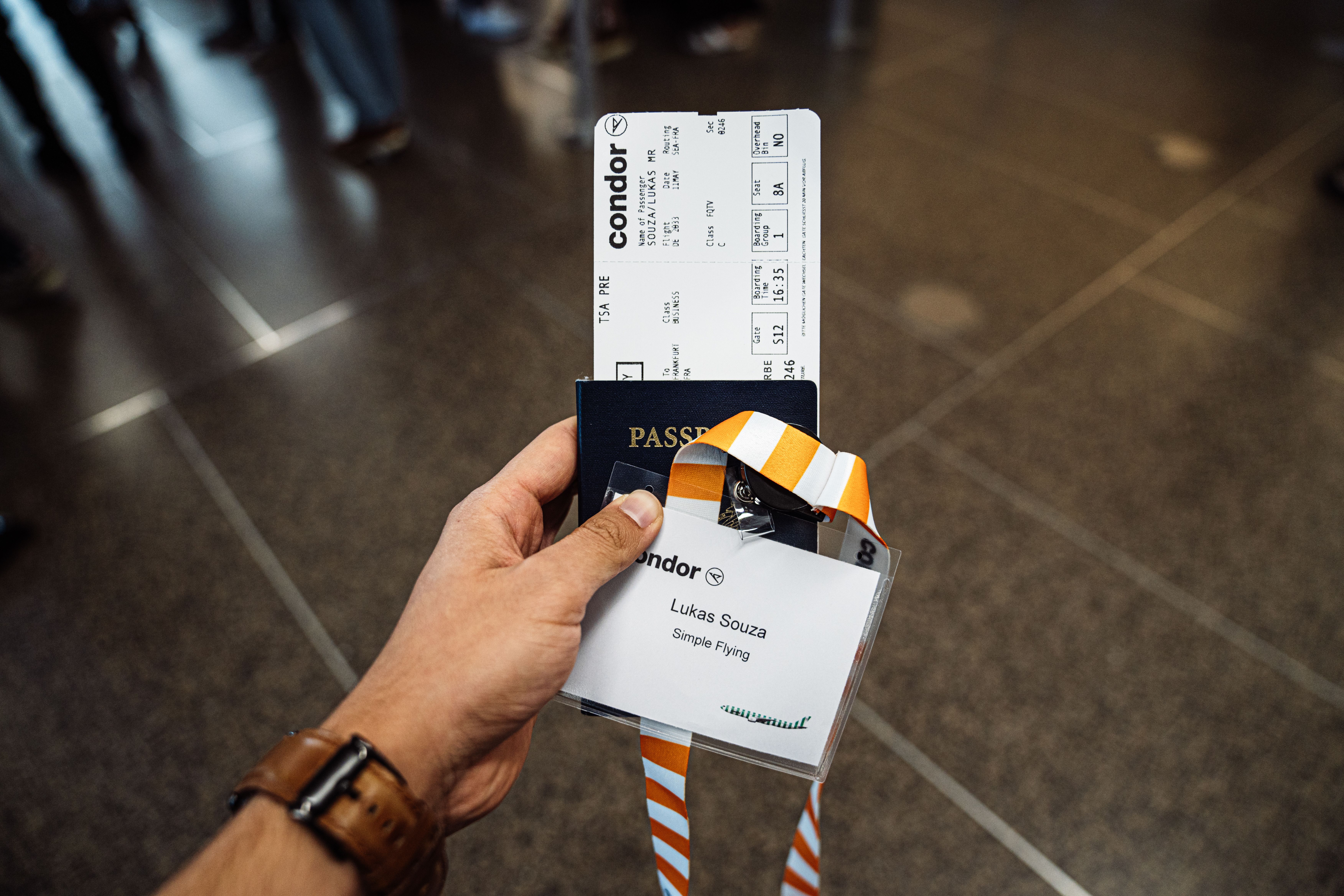 Photo: Lukas Souza | Simple Flying
I already had my boarding pass on my phone as I checked in through the app, which was very simple. One major detail (small to some) needed to be added to my reservation, my Known Traveler Number, which would give me access to the TSA PreCheck security line. I did not find anywhere in the Condor app to add my KTN, but Brian was able to add it to my reservation in seconds and printed me a boarding pass that would allow me to go through TSA PreCheck.
The check-in desks opened a short while later and, as usual, were divided by cabin. The signs which displayed the cabin names were relatively small and easy to miss, but TV screens above the desks also helped identify the classes of service. The three signs for business, premium economy, and economy also featured Condor's new famous striped livery. From my vantage point, everything appeared to go smoothly at check-in.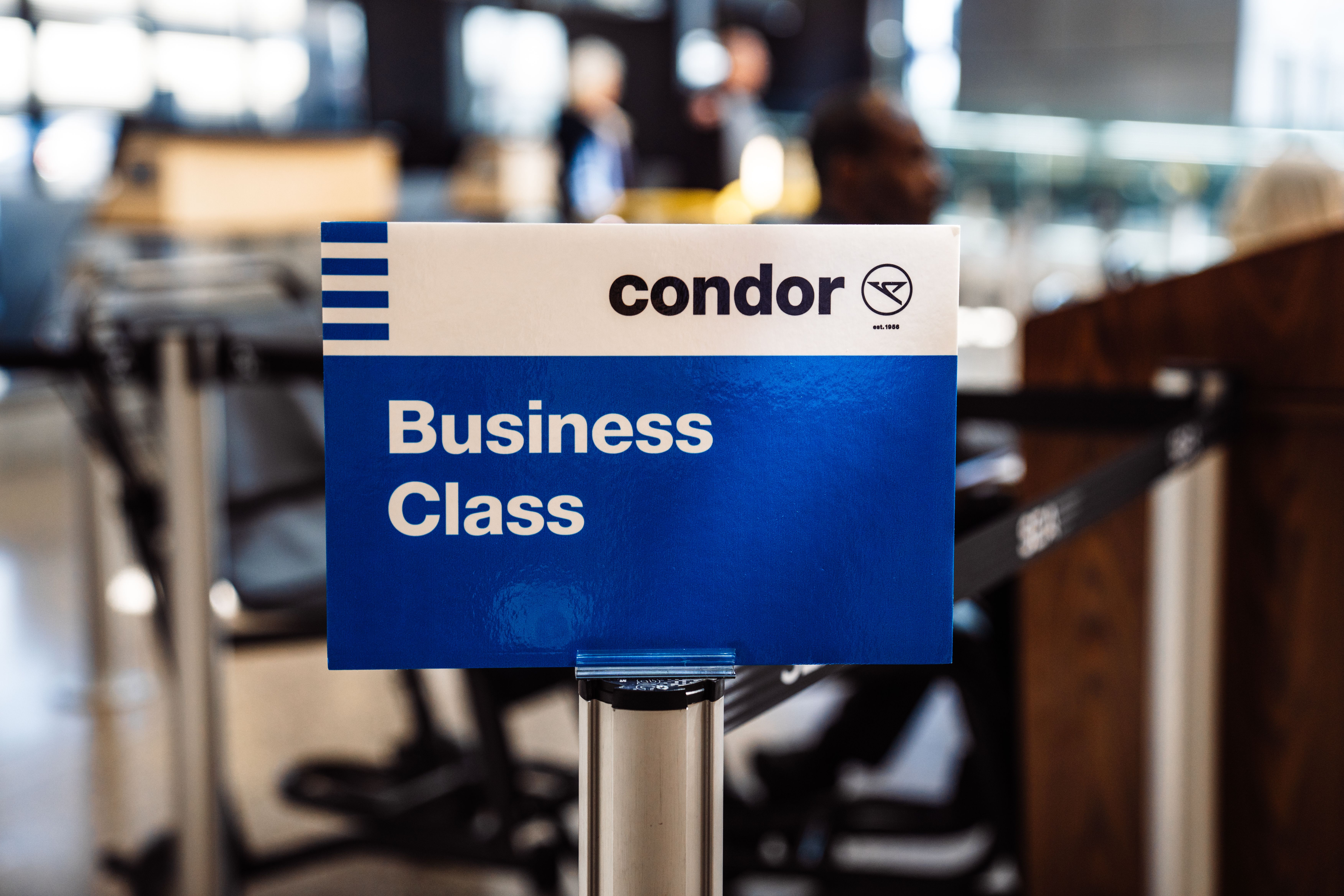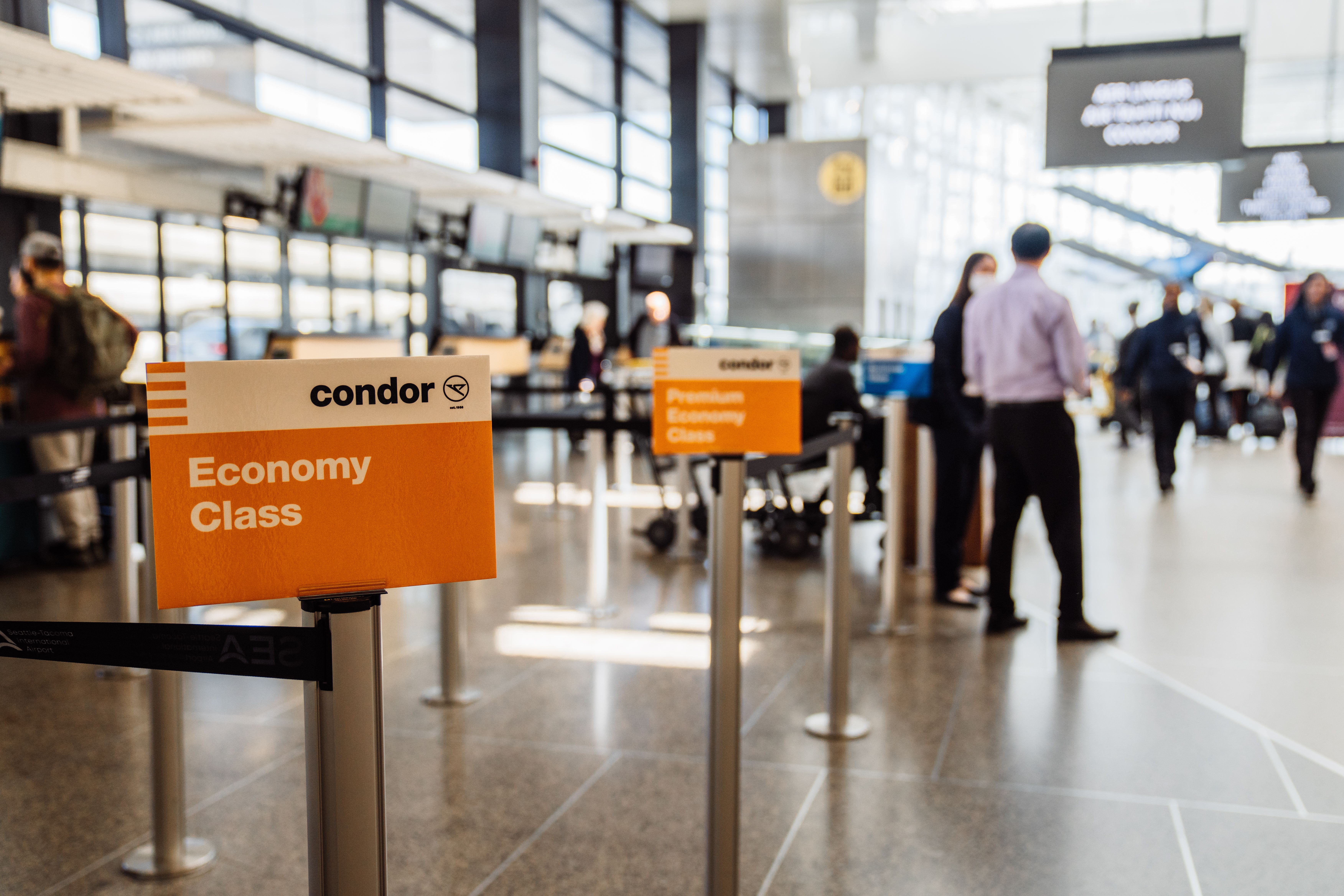 Unfortunately, the wait time at TSA PreCheck was quite long on Thursday, the longest wait time I have experienced in a long time. I am a CLEAR member, but I was going through security through one of Condor's personnel and decided not to abandon them, which led to us waiting around 20 minutes.
International flights in Seattle depart from the S terminal, located across the taxiway from the main terminals and accessible via an underground train. The walk from the security checkpoint was at most three minutes, and the train took about two minutes to arrive at the S gates. As we were flying in business class, we could access The Club at SEA, which Condor has partnered with for lounge access.
At the lounge, a small area was set aside for the Condor event, which featured executives from the Condor Headquarters. Three short speeches were given, highlighting the importance of Seattle as a market for Condor, the introduction of the A330neos to its fleet, and its partnership with Alaska Airlines.
On the ramp
To my surprise, we were allowed to go onto the ramp to photograph the inbound flight from Frankfurt. It was a lovely day in Seattle, with clear skies and warm temperatures, and I was thrilled to be going onto the ramp. The aircraft was backlit as it landed, making it challenging to get great shots. Nonetheless, all of us were grateful to have the opportunity to go on the ramp, thanks to coordination between Condor and the airport press relations team.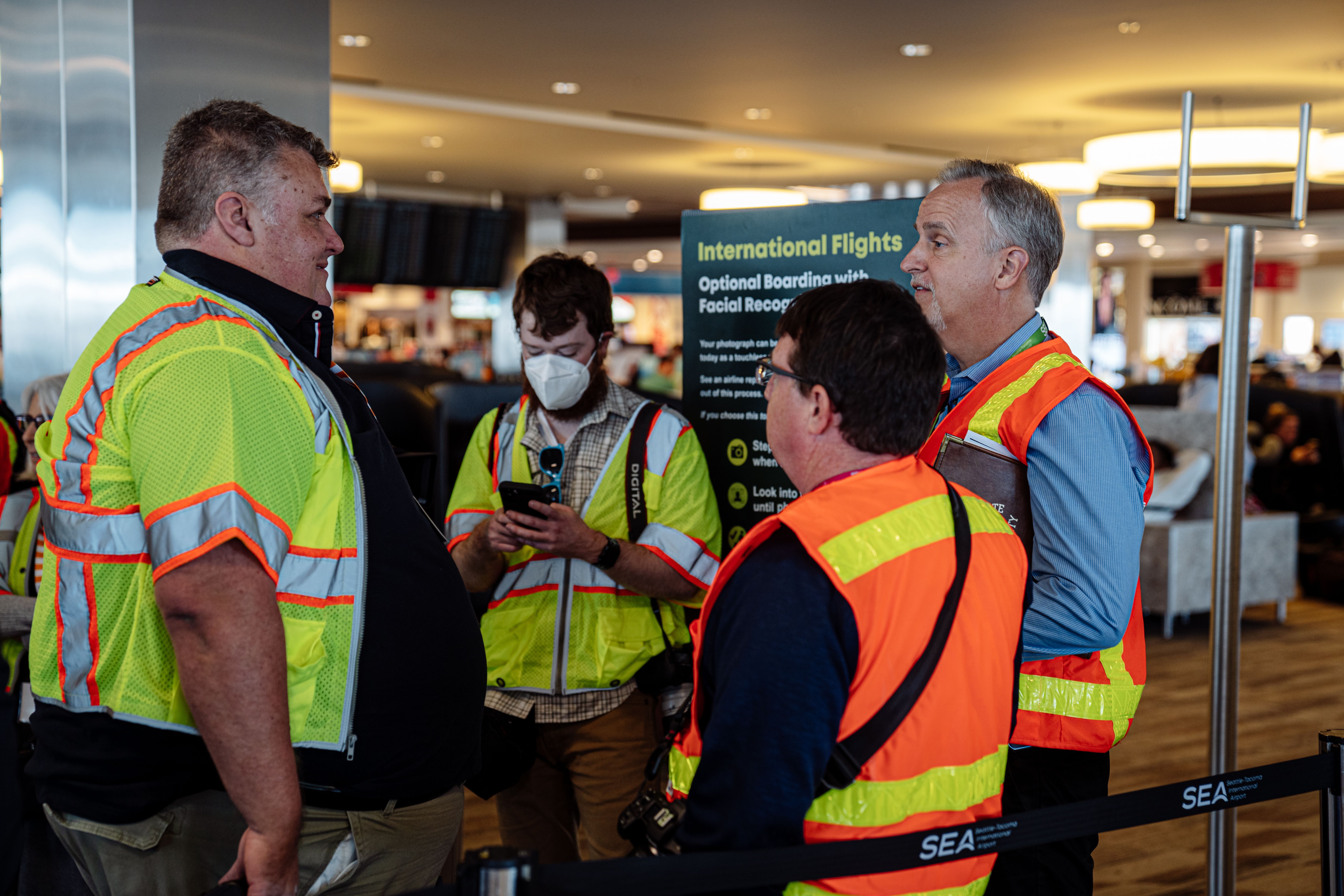 Photo: Lukas Souza | Simple Flying
Below are images of the aircraft taxiing into the gate, being marshaled by ground staff, and unloading cargo. Notice that the striped branding is also on the cargo containers of the aircraft.
Onboard
Media were also invited to tour the aircraft before boarding began. Unfortunately, the tours ran long, delaying boarding, and, as we were flying on the aircraft, we were the last group to board and toured just minutes before passengers began boarding. Though the time to photograph the aircraft interior was short and rushed, I did manage to capture most of what I wanted.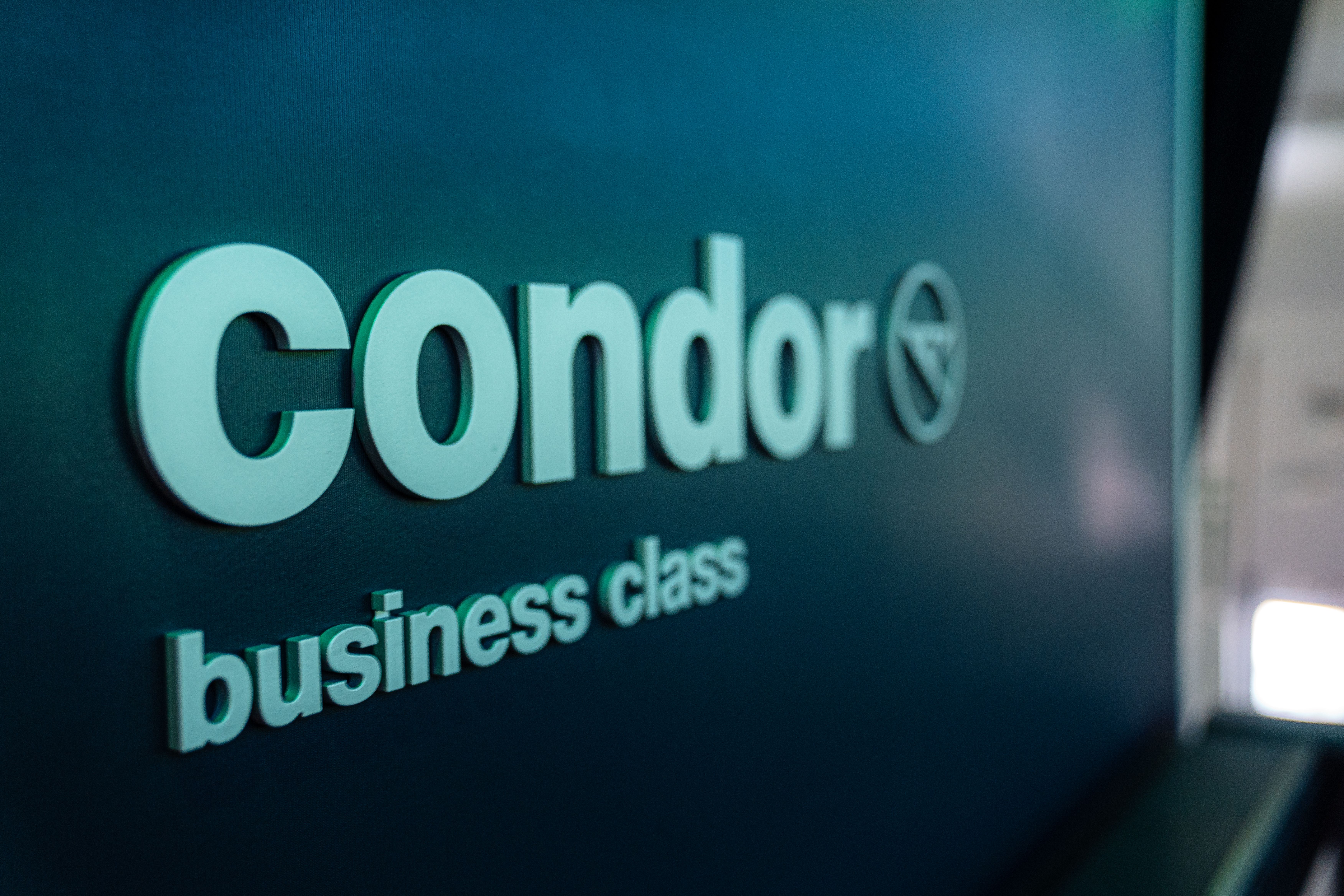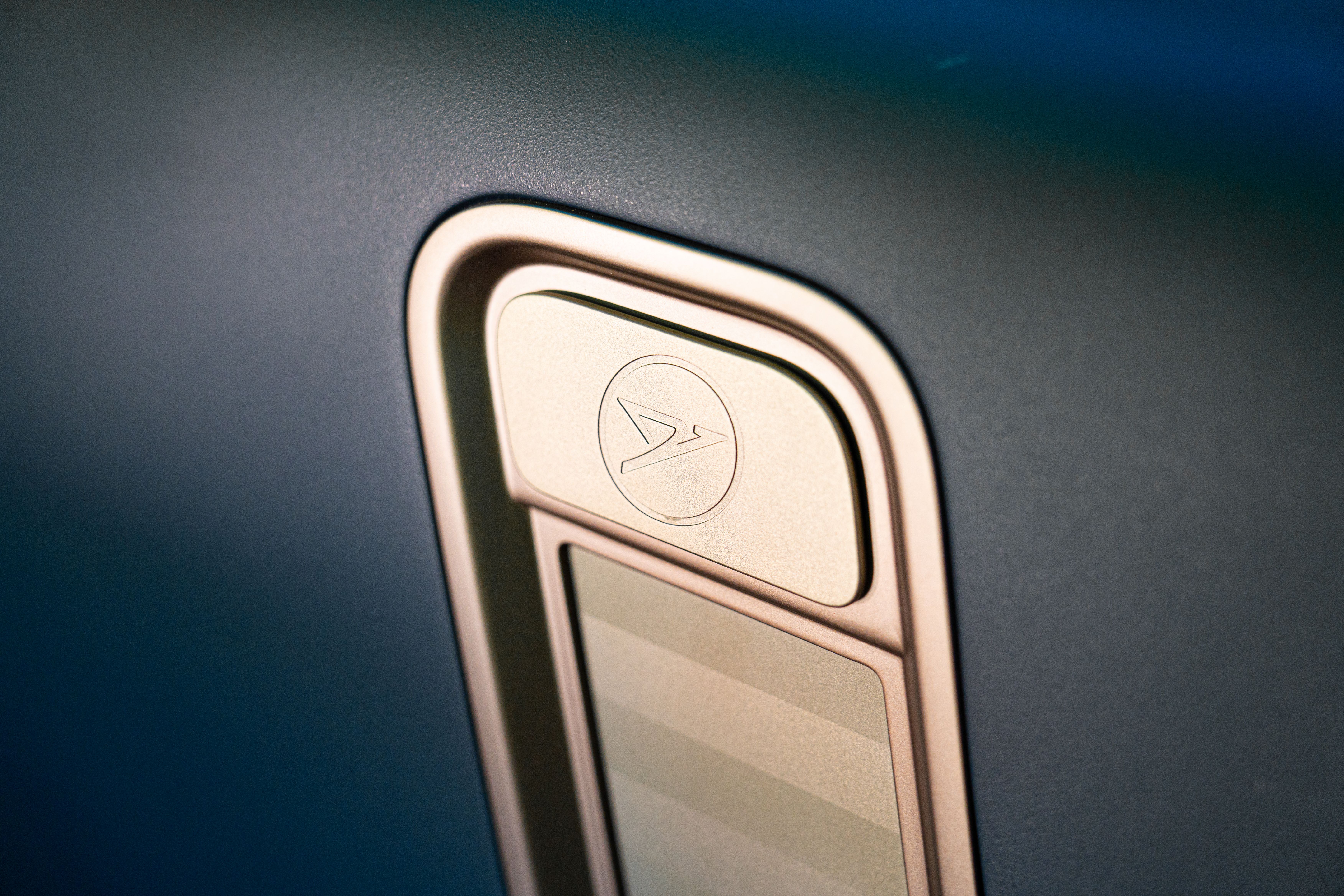 Once the boarding process began, it went quickly and smoothly, as far as I could tell from inside the aircraft. The crew was extremely friendly and excited to show Condor's new plane. As with any other flight, the door was closed as soon as boarding was complete, and we were off. Our flight departed ___ minutes late, but this did not appear to frustrate passengers.
All passengers received a blanket and pillow at the seat when boarding, and as I was in the Prime seat up front, I also received a set of Condor branded pajamas, which included the stripes on the inside of the hood. Every seat came with a sustainable amenity kit, including a bamboo toothbrush. The kit featured a dental pack with a toothbrush and toothpaste, an eye mask, socks, facial moisturizer, and lip balm.
Right before boarding began, we were told that a couple of prime seats (the premium of the premium product on the neos) were available, and I was upgraded. As the prime seat is an upgraded experience, I was also given a second amenity kit, which was not at the seat when I sat down for whatever reason. The special kit was made from a cardboard bag and included the same dental kit as the standard kit, an eye mask with Condor's striped branding, striped socks, body mist, lip balm, hand cream, and face moisturizer. Both kits had a card referring to the airline's commitment to sustainability.
Shortly after takeoff, the crew began preparing the dinner service and gave us hot towels before serving a snack of nuts and a beverage of choice. In the prime seat, I was also given a snack basket and a voucher for free messaging during the flight; more to come on WiFi below. If you have read any of my flight reviews before, you will know that I chose to drink orange juice. I was pleasantly surprised by Condor's meal service because of the quantity and quality of food. Before I dive into the food, let's talk about WiFi and IFE.
Though WiFi technology has been around for years, it is rare to find stable and/or fast WiFi on aircraft, and more often than not, the price points are ridiculous. Four packages were offered on the flight, which were quite expensive.
Fly Connect Chat (free) – ten minutes of messaging
Chat unlimited (7)
Basic 2h (12)
Premium 4h (20)
Notice there was no offer for the entire flight, which I found rather odd. As mentioned above, I received a voucher for inflight messaging, but even that was only stable for some of the duration of the flight. In some cases, coverage is worse when not flying over land, but it was tough to load messages even when over land. Now, back to the food.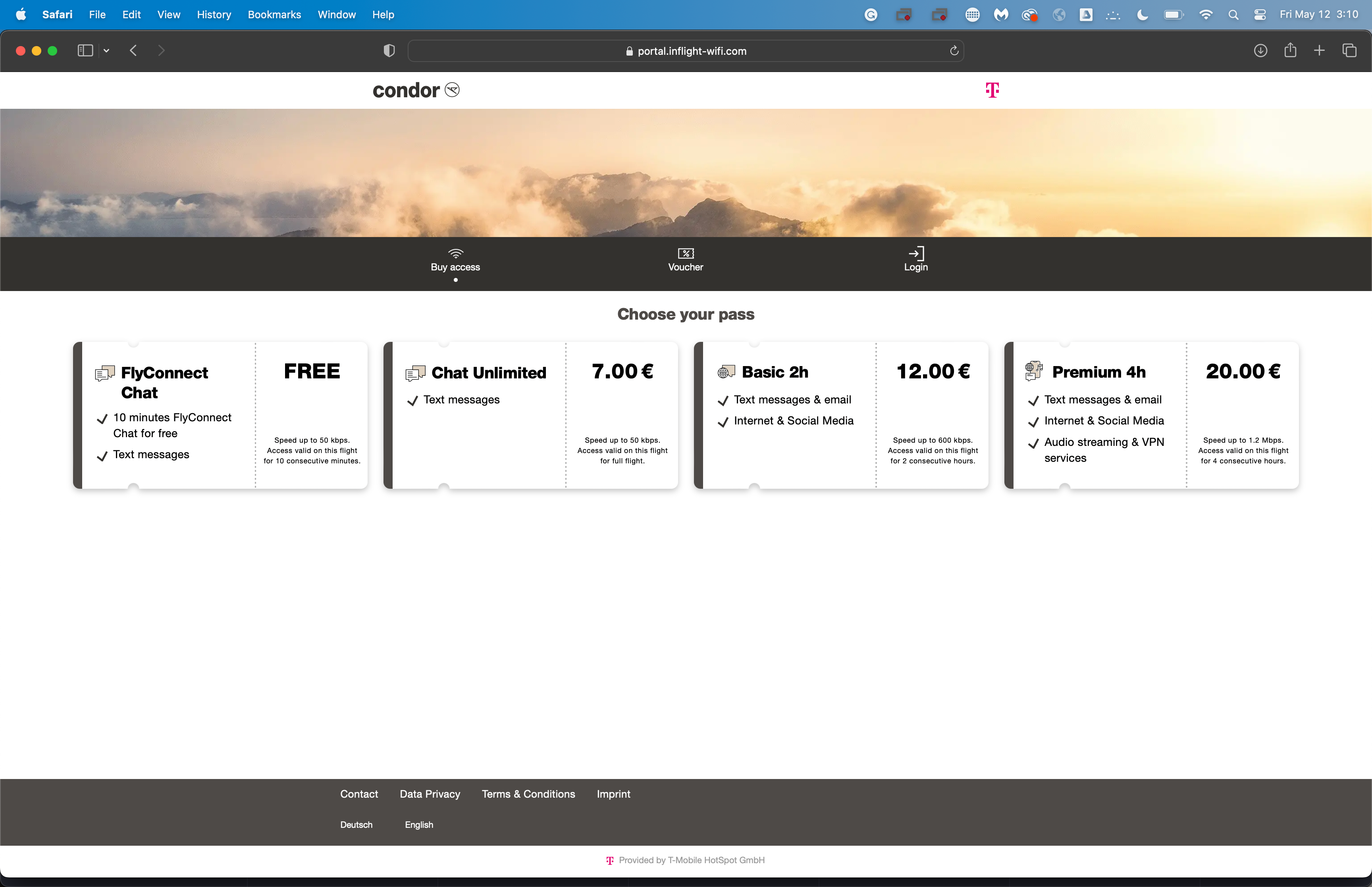 Photo: Lukas Souza | Simple Flying
I am a frequent flyer, reaching almost 100 flights this year, but I have only flown business class on a handful of carriers, half from the United States. American carriers' customer and food service and hard products are not as prestigious compared to most parts of the world. From my experience, typically, an airline offers one appetizer, one main dish, and one dessert, and sometimes there is extra food left that passengers can have if requested. With Condor, we were served a massive tray with four appetizers.
Dining
Shortly after serving the nuts and drinks, one of the flight attendants came by and asked me what I wanted as an appetizer. I quickly opened the menu after forgetting that I needed to make a selection. She then clarified that she was asking if I wanted anything else to drink and that we would be served all appetizers listed on the menu. I laughed at the misunderstanding, asked for more juice, and thought she was joking about the appetizers. A few minutes later, I was served a huge tray.
As seen in the menu above, the appetizers were
Bell pepper dip
Millefeuille of tomato mozarella, bresaola, balsamico
Marinated tuna, yellow beetroot, tarragon dressing
Mixed greens, tomato, and balsamic dressing
A selection of bread was offered along with the appetizers, and as I had a hard time deciding which bread to try, I asked the flight attendant what the most popular was. She suggested I try the pretzel roll and then gave me a piece of garlic bread, which I was excited about. About half of the food served as appetizers were things I did not eat, but the presentation was pristine, and the food seemed to be of excellent quality.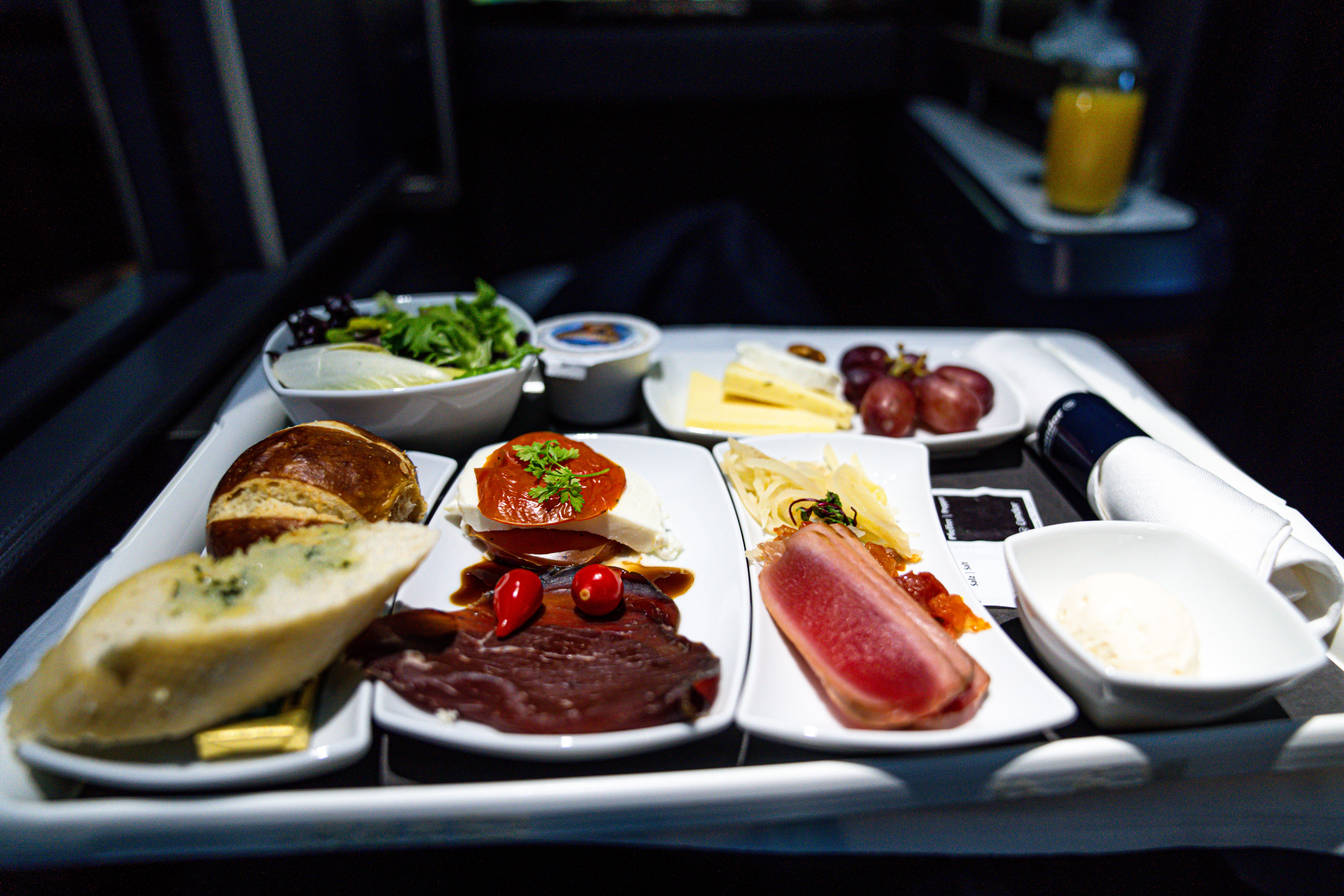 There were a standard three choices for dinner, one of them vegetarian. The three dishes were
Veal cheeks, green asparagus, broccoli, and polenta
Shrimp scampi, broccoli, saffron rice, tomato bell pepper jus
Italian ravioli stuffed with mascarpone and artichoke, mushroom sauce, baby spinach, roasted tomato, parmesan cheese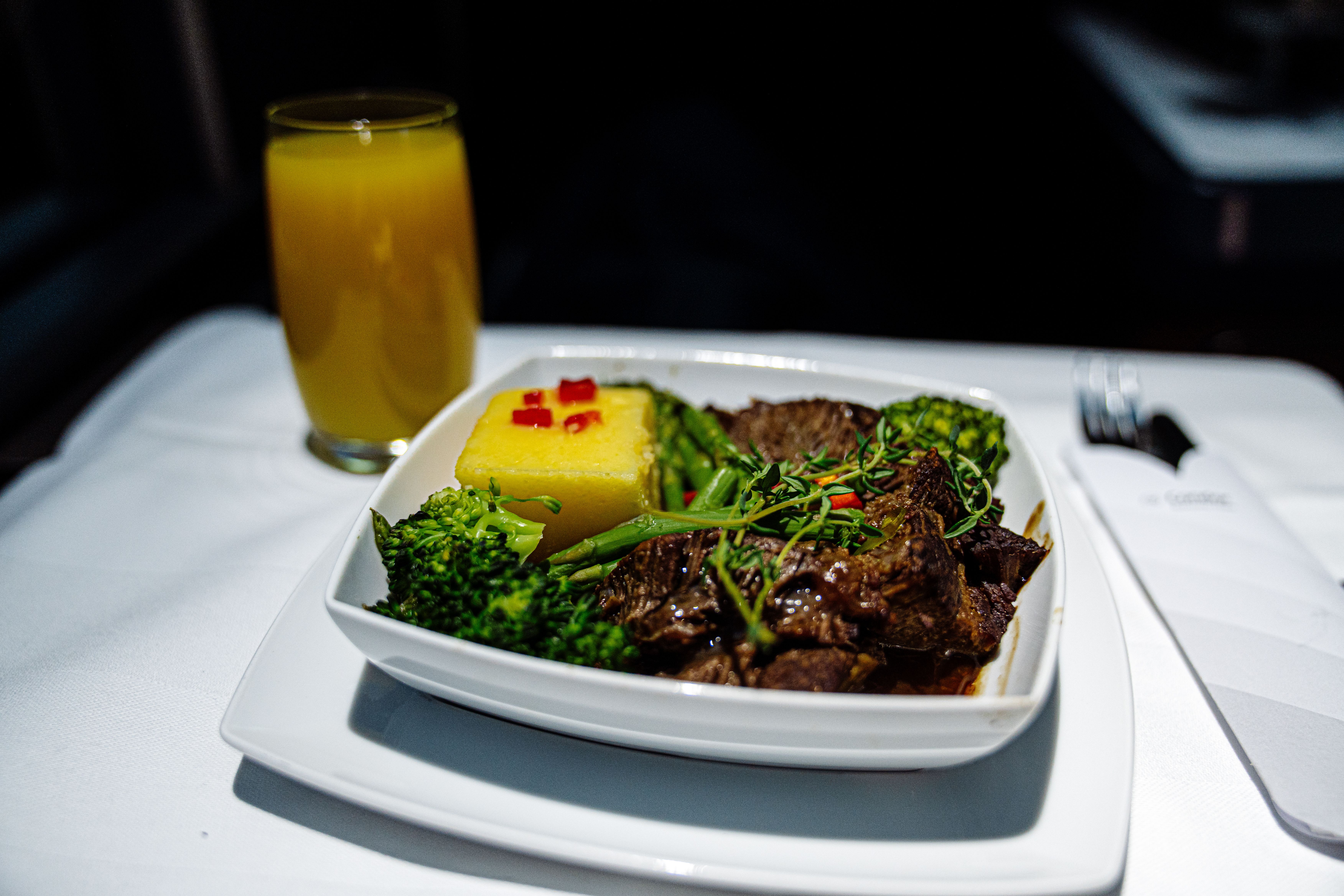 Photo: Lukas Souza | Simple Flying
I selected the veal cheeks, which were incredible and incredibly tender. The broccoli and asparagus were a perfect pairing with the meat. But the polenta was a different story, and I found it flavorless, so I only ate a little. Having looked at the menu, I was excited for dessert, a lemon tartlet. The tartlet was quite tasty but could have had a more potent and tangier lemon flavor. The crew offered passengers coffee and tea with dessert, neither of which I drink, so I wrapped up my meal service and got ready to sleep.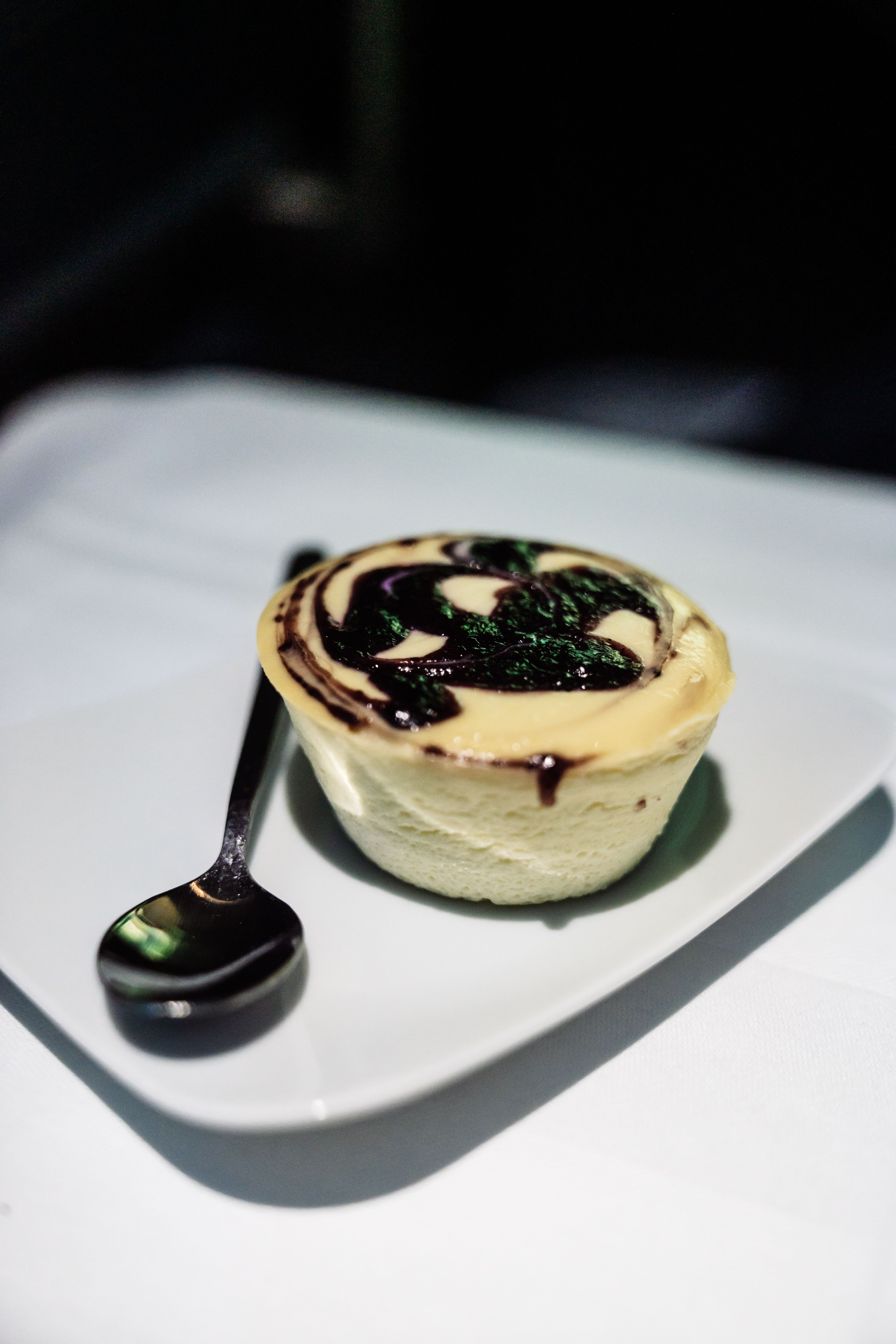 Photo: Lukas Souza | Simple Flying
A mattress pad was not provided, but the crew did tell me they will be in the future and that supply chain issues have prevented the airline from offering them. I put my seat in its flat position, put the blanket and pillow out, and went to sleep. A mattress pad would have been great as the seat was quite stiff, which would make it difficult for many passengers to sleep. Fortunately, I can sleep almost anywhere and slept pretty well.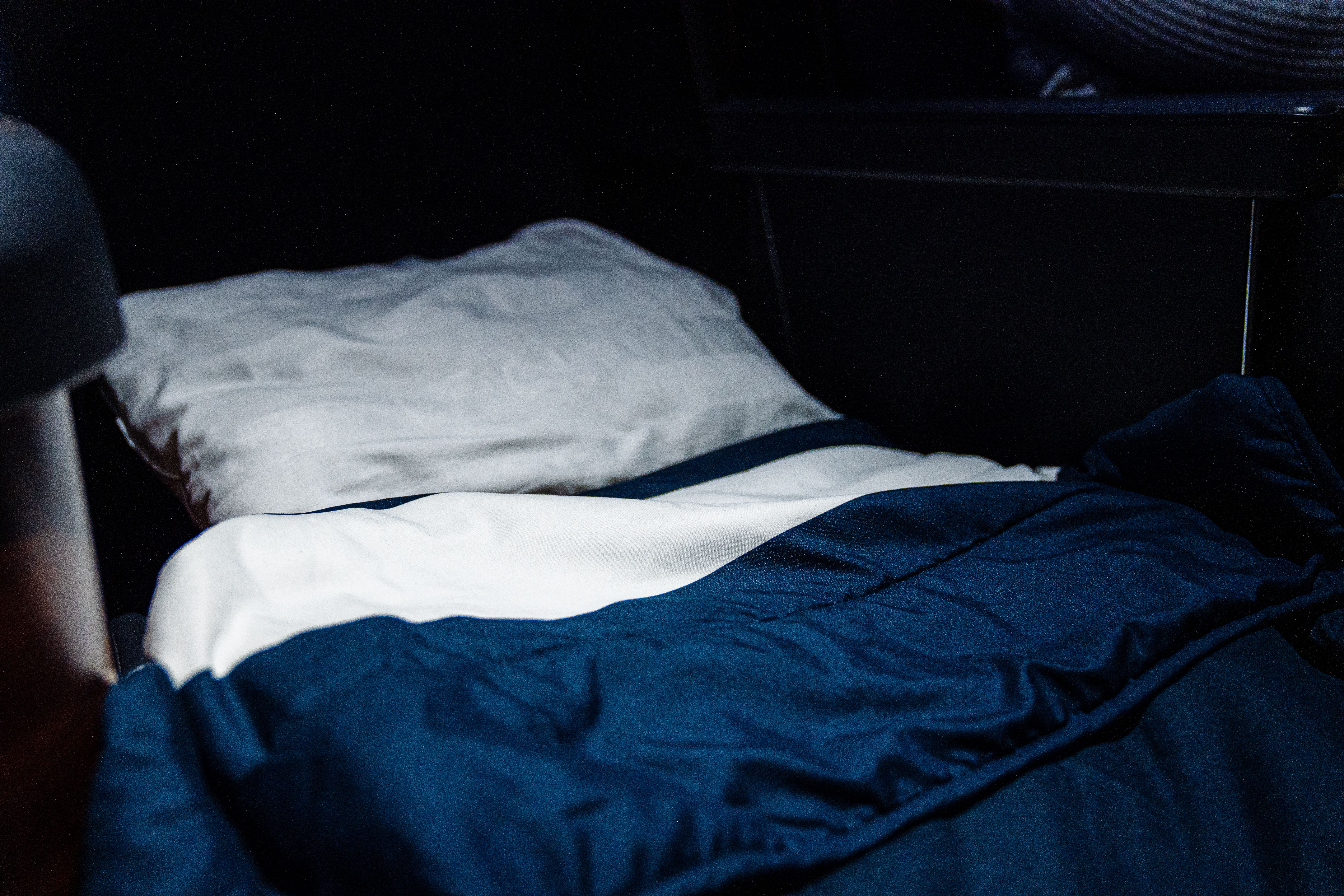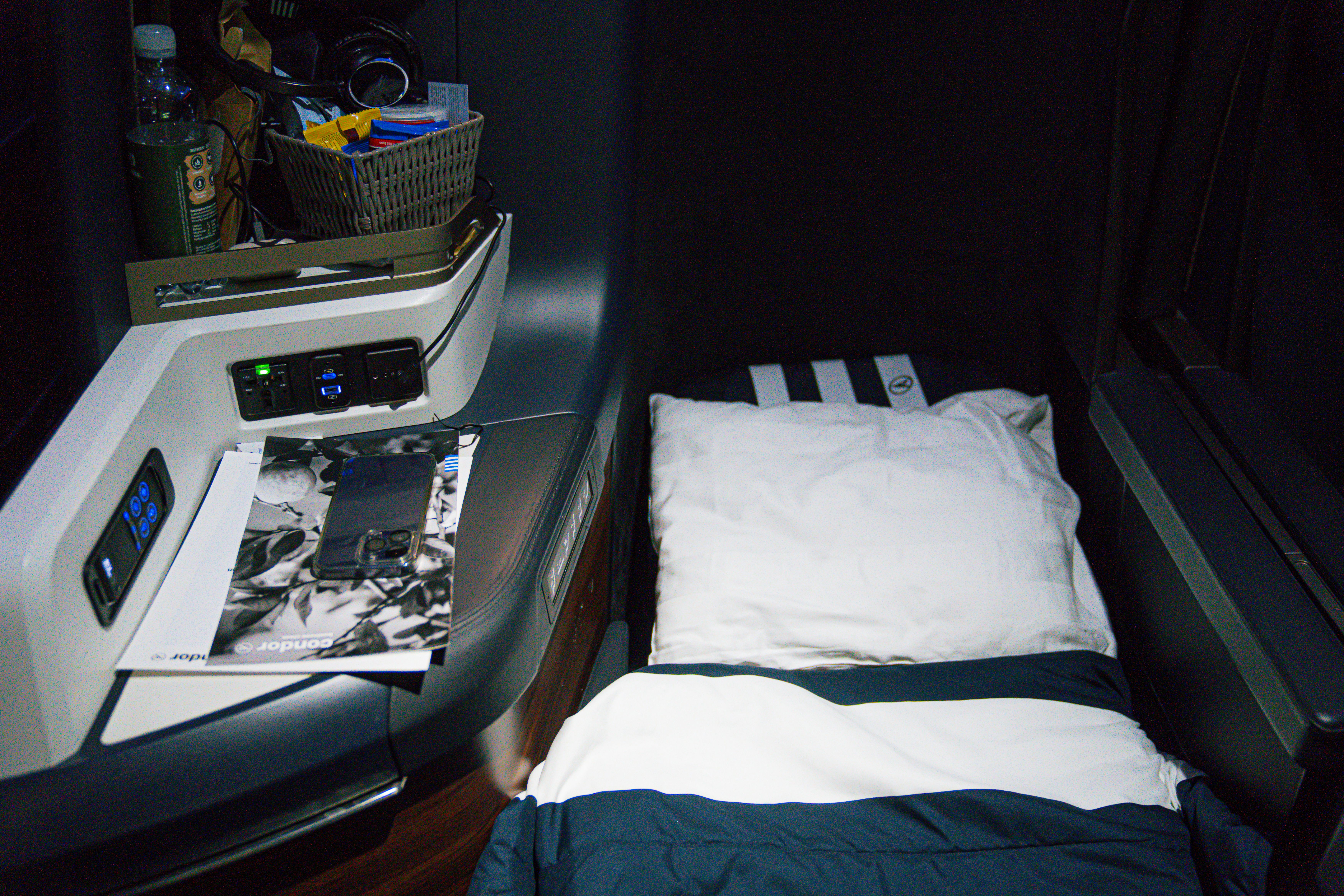 After about five-and-a-half to six hours of sleep, I woke up for breakfast which was served about two hours before landing. Only one option was available this time, but it came with plenty of food, just like with dinner. The breakfast menu was,
fresh fruits
Italian salami, cream cheese, cheddar
Omelet stuffed with ham and cheddar
Bread, roll, croissant
Butter, jam, honey, Nutella
Coffee, tea
Freshly squeezed orange juice
The menu says freshly boiled eggs are available on the A330neo, but I was not offered one and did not recall seeing it on the menu when I boarded. Of everything served for breakfast, I would critique only one thing: the omelet was very dry, but as it was served with a sauce, it was alright. Having freshly squeezed juice was a massive bonus as orange juice is not only my drink of choice on airplanes but at breakfast.
I finished breakfast about 90 minutes before landing and decided to try to nap a bit more before getting up to brush my teeth and put my seat upright. In no time, the pilots announced we were on our final descent into Frankfurt, and the cabin crew asked us to prepare for landing. Though we took off ___ minutes late, we landed __ minutes ahead of schedule. Once on the ground, we exited via a jetbridge but got on a bus that took us to the terminal, where we went through immigration, picked up bags, and then exited.
Thankfully there were almost no passengers at immigration, and likely only from our flight, so that process was very smooth. Grabbing bags was another story; two of the media guests on the flight had checked bags, and although we all sat in business class and their bags had priority, they took a long time to arrive.
Overview
Overall, flying business class on Condor's Airbus A330neo was an incredible experience. It is my favorite business class product thus far. The aircraft was beautiful, and the airline did a phenomenal job designing the interior; the crew and the food were fantastic. I would choose Condor to fly across the Atlantic in a heartbeat. Tomorrow I return to the United States on Condor's flight to John F. Kennedy International Airport in New York City. Unfortunately have recently discovered my flight will no longer be operated by one of the airline's A330neos, but rather a leased Air Belgium aircraft.
[ad_2]

Source link