[ad_1]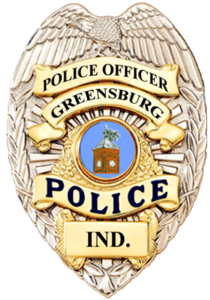 Greensburg, Indiana — At approximately 11:19 PM on March 3, 2023, Greensburg City Police Department officers conducted a traffic stop near the 134 Mile Marker on Interstate 74.
The vehicle, a red Volkswagen Jetta in which the two were in, was stopped for numerous violations.
When Greensburg police officers were talking to the vehicle's occupants, they noticed the smell of marijuana coming from inside the vehicle.
Officers believed the driver was submitting false identification due to his lack of knowledge of personal information. Officers asked passenger Darrell Lyme to get out of the car. Lime refused to get out of the car.
Officers continued to order Lyme out of the vehicle. Officers noticed Jaimsha McChristine (the driver) continuing to touch the gearshift. Officers told McChristin to park the vehicle, and that's when McChristin drove away at high speed.
McChristine drove over 100 mph on Interstate 74, which has a 70 mph speed limit. McChristine exited Interstate at his 143 exit and immediately returned to Interstate 74 heading east.
McChristine exited the interstate at the 149-mile marker. Once off the interstate, McChristine and Rhyme fled the car on foot near the intersection of his I-74 and Main Street. McChristine and Rhyme were both taken into custody after a short foot chase.
During the foot chase, Lyme ignored an officer's order to stop resisting. A Taser is deployed by the Auxiliary Agency and Lyme is taken into custody. Once Lime was taken into custody, he was treated for an injury he sustained when he fell during his foot chase.
McChristine was transferred to the Decatur County Jail.
Lyme was taken by ambulance to a local hospital for treatment of his injuries, after which he was released for further treatment.
McChristine was charged with resisting law enforcement with a motor vehicle, a level 6 felony. Identity theft, a level 6 felony. Counterfeiting, a level 6 felony. Reckless driving. Class A misdemeanor; possession of marijuana, class B misdemeanor, and driving a motor vehicle without a license, class C misdemeanor.
Rhyme was charged with resisting law enforcement, a class A misdemeanor, and possession of marijuana, a class B misdemeanor.
As part of the investigation, the Decatur County Attorney's Office received more than four and a half hours of body camera, dashcam, and business security footage.
The Greensburg Police Department would like to thank all agencies for their assistance with this case.
We would also like to thank the public for their comments on social media. With your help, we were able to uncover the identity of Lyme, who submitted fake IDs.
An internal review was conducted and it was determined that no violation of Greensburg Police Department policy or procedures had occurred.
(Greensburg Police Department press release)
[ad_2]

Source link