[ad_1]

The chase began around 10:00 am in the Batesville area.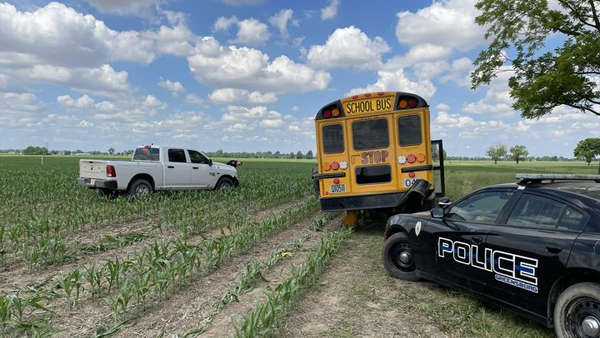 Photo by Indiana State Police.
(Batesville, Indiana) – Multiple agencies have joined in tracking down a stolen school bus in southeastern Indiana.
An unidentified individual stole a Universal Transit Service bus Tuesday morning, according to the Indiana State Police and Versailles Post dispatches.
Information was forwarded from Hamilton County to the Indiana State Police around 10 a.m. The owner of the bus told police the man had "departed on the bus".
Multiple agencies were dispatched and collided with the bus near Batesville near Interstate 74 westbound. The pursuit continued into Decatur County.
The suspect, who was the only passenger, dodged multiple stopping bars and eventually passed through a cornfield. Investigators said the bus driver crashed into at least one police vehicle and forced another out of the roadway during the chase.
The stop bar was eventually successful, and the bus came to a stop at gunpoint in a field just south of Shelbyville on the west side of Route 9 at about 11:18 am.
The suspect was taken into custody without incident.
ISP Sergeant Stephen Wheels issued the following statement via Facebook:
"A chase of a stolen school bus conducted this morning in Decatur and Shelby counties concluded with the suspect in custody and safe. Multiple police vehicles and property were damaged during the chase. No injuries were reported. I'm on the scene and I'm going to conduct an investigation." Details will be announced soon. "
Local news details
[ad_2]

Source link