[ad_1]

The company promotes across multiple business lines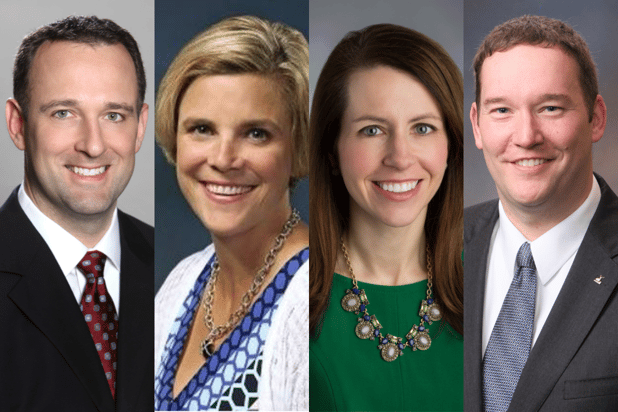 insurance news
by Ryan Smith
The University of Hartford has announced the appointment of new leaders across multiple business areas.
Hayes Henderson (pictured above left) has been promoted to Head of Sales and Relationship Management for Group Benefits. He will replace the retiring Lori Hai.

Karen Raftery ((pictured above, second from left) has been appointed head of the newly created department in the Group Benefits area. According to The Hartford, the new industry is focused on small and medium-sized employers.

Lynn Kennedy (pictured above, second from right) has been appointed Head of Small Commercial Sales and Distribution.

Paul Hiscox ((pictured above right) has been appointed head of retail sales and underwriting operations.
In his new role, Mr. Henderson will be responsible for developing strategies to strengthen the company's market position and drive profitable growth for the benefit of the Group. He will assume the role effective July 1 and will report to Jonathan Bennett, the group's head of welfare at the University of Hartford.
"We will continue to strengthen our focus on high-growth market segments and adapt to meet the evolving needs of employer clients and broker partners," Bennett said. "Hayes is a proven and committed leader with deep relationships and experience serving clients ranging from small businesses to Fortune 10 companies."
Mr. Raftery will lead the new Group Benefits division, which will focus on providing benefits, providing management solutions for employers with 2-499 employees. She will assume the position on July 1 and will report directly to Mr. Bennett.
"Karen's strong expertise in distribution and strategy makes him ideally suited to lead this role focused on end-to-end customer experiences for customers of small and medium-sized employers." Mr Bennett said.
Kennedy's expanded role will see all small commercial sales consolidated under her leadership. She will be responsible for leading all smaller commercial distribution channels, including agency, alternate and direct, as well as the field and sales performance teams. She will report to Christopher Jones, Chief Operating Officer, Small Commercial Division.
Hiscox leads all personal line sales channels including direct, agency, partnership and the company's own flood program. He will continue to be responsible for the personal insurance underwriting business. Hiscox reports to her COO, Melinda Thompson, in the Personal Division.
Stephanie Bush, Head of Small Commercial and Personal at The Hartford, said, "The Hartford is well positioned to serve small business owners because of its many years of deep underwriting experience and strong relationships across our diverse and complementary business lines. It has a unique aptitude for serving a wide range of needs." . "Ling's extensive experience in finance, product, program strategy and distribution leadership makes him well-positioned to lead our small commercial sales and distribution organization.
"In addition, personally, Paul is an inspiring leader with extensive knowledge of over 50 markets, underwriting, agency and direct sales, as we continue to innovate our automotive and home business in dynamic markets. On top of that, this knowledge will be beneficial to our company."
The Hartford last month appointed Marc Asolino as head of its new Global Specialty Digital Solutions business unit. The company also recently announced the appointment of Jack Bardrick as Head of Global Specialties International.
Do you have anything to say about this story? Let us know in the comments section below.
Check out the latest news and events
Join our mailing list, it's free!
[ad_2]

Source link