[ad_1]

Everyone was a winner at the Verge Conference, but for the Grand Prize's $100,000 winners, that prize means they can make their dreams come true.
"You can reach your dreams," Paula Nichols said after being handed a $100,000 check to bring her husband one step closer to realizing her Spanish Immersion Kindergarten vision.
"I'm happy to share this opportunity with the community and children," said Nichols. "Our motto is to empower children to realize their dreams for tomorrow."
The conference was held on Thursday, May 25th at the Gesa Powerhouse Theater. The main objectives of the event were to empower local BIPOC entrepreneurs, foster the development of veterans and women-owned businesses, and provide support to small businesses in underserved areas. . He spans three counties, including Walla Walla County.
Funding made possible by the Washington State Department of Commerce's Small Business Innovation Fund was divided into two tiers, with $405,000 distributed through technical assistance grants and $230,000 awarded at the event.
A total of 91 companies initially submitted applications to participate in the conference. Of these, 39 were selected, and he received prize money ranging from $1,250 to $2,500. Eleven companies were selected from among the applicants to give presentations at the Gesa Power House Theater.
Hosted by the Downtown Walla Walla Foundation and Kindling Coworking, the conference began with an introductory panel discussion. Next, a session was held by Rebecca Thorpe of the Blue Zone Project.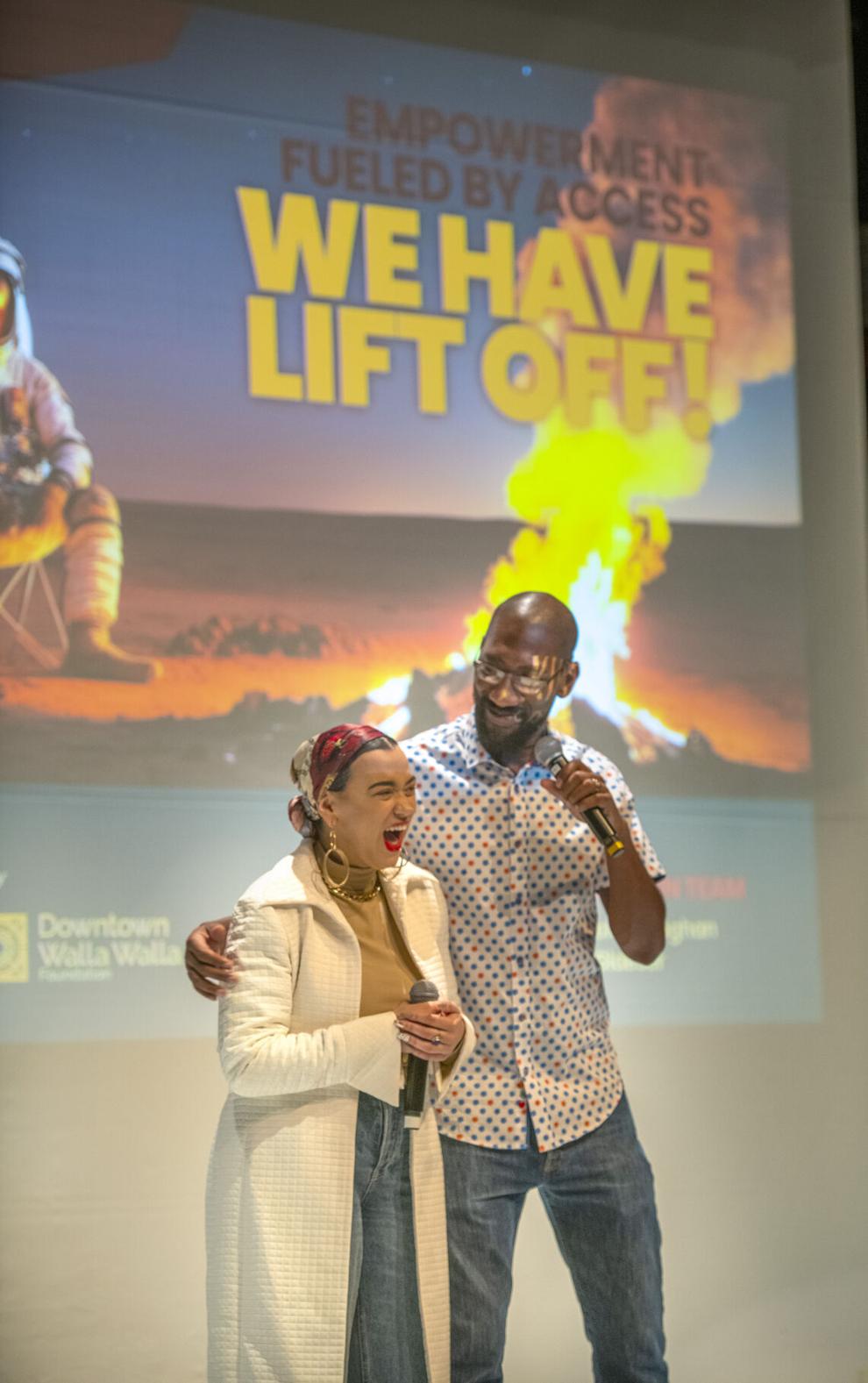 At 3:15 p.m., Jenny Nguyen, owner of The Sportsbra in Portland, joined Kathryn Witherington, executive director of the Downtown Walla Walla Foundation, for an interview session on "Oprah Style." . Nguyen told how she became a successful businesswoman, opening her first sports bar dedicated to women's sports. During her interview, she offered advice to up-and-coming entrepreneurs and explained how Barr managed to make her nearly $1 million in eight months.
Hosted by Rodney Outlaw and Lindsay Luna, the 11 entrepreneurs were welcomed to the start of the evening's pitching segment. The co-organizers considered the rules for a "Shark Tank" style contest. Briefly, the entrepreneurs presented him one by one in alphabetical order, had five minutes to pitch their business, and four minutes to answer questions from the judges. Part of the pitch was presented in Spanish and the judges wore headsets to listen to translations.
Sandown Hazen, co-owner of Chesedo Farms and one of its competitors, said before the meeting that when he saw an opportunity for extra cash in his farm-to-table mushroom business, he couldn't pass it up. said.
"As a start-up, no matter what business you're in, it's hard to get up and scale," Hazen said. "This opportunity seemed like the perfect opportunity for us to grow faster."
He said the Impact Grant and other funds provided by the Downtown Walla Walla Foundation and Kindling Coworking have done a great job of uplifting the small business and entrepreneurial communities in the Valley and beyond.
"It's great that the organization has vetted opportunities to help so many start-ups and small businesses," Hazen said. "I am a huge supporter of the local economy and it is very important to me to ensure that these businesses are supported and encouraged."
pitch
Abundant Life Child Care of Waitsburg will hold a pitch contest opening ceremony at 4:30 p.m. He said it would help renovate the town's buildings. Beckmeyer said Waitsburg, Dayton and Prescott have no licensed childcare facilities, so the service is much needed. She said only licensed childcare facilities are eligible to accept childcare vouchers to help pay.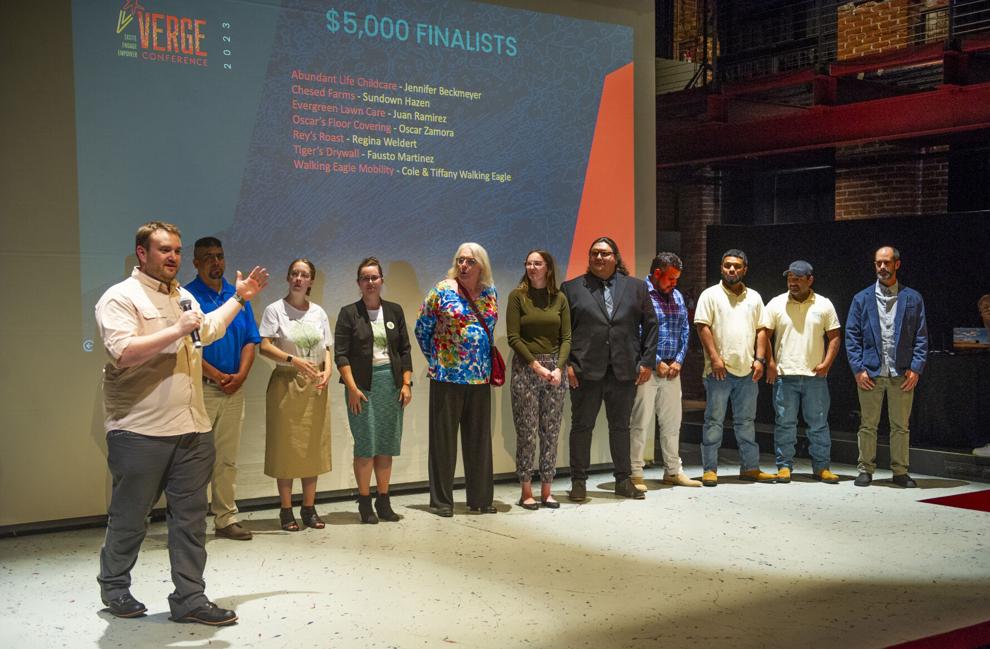 Next up was Chesed Farms. Hazen, who runs a sustainable gourmet mushroom and produce business, said the $100,000 will be used to further increase year-round growing capacity, leading to increased employment. In five years, he believes, he will be able to "grow a lot of food and feed a lot of people."
Juan Ramirez, of Evergreen Loan Care, pitched third and said that if the company receives $100,000, it will be able to purchase new equipment that will take its service to the next level.
Then it entered the phase of Oscar Floor Coverings, the company's owner, Oscar Zamora, said the money could be used to hire more workers and help the community even more.
The next competitor was Regina Werdart, who has been roasting coffee for 20 years. Weldert, the owner and head of coffee roasting at Rey's Roast, suggested that the wholesale business get a bigger roaster that could triple her output. She said it would be able to hire more workers to meet increased production.
Sonrisus Spanish Immersion Preschool, owned and operated by Paula Nichols and Ben Nichols, was next. The couple said the service offers children the opportunity to teach them how to speak both Spanish and English. According to the couple, the kindergarten will be Walla Walla's first Spanish-intensive kindergarten. The grand prize will be used to convert a 1,400-square-foot, four-car garage into a kindergarten that accommodates 20 children. They estimated they needed $150,000 to open the door.
After a short break, Tobit Salazar, owner of T Barbershop, suggested establishing a more accessible and comprehensive barber academy in Walla Walla. He said the grant will help get the Walla Walla Barber Academy and Incubator vision off the ground. With more than 21 years of experience as a barber, he said he will be able to support aspiring barbers during their training at the academy. The funds will be used to purchase equipment and establish a fund to help pay for the first student's education.
Tigers Drywall forward Fausto Martínez took to the pitch looking to expand his construction business. He said the opportunity to expand will allow him to help more customers across the Valley.
Then Twisted Wire Coffee was founded. Brian Bartels and Christy Bartels, co-owners of this coffee company and café, started with an interesting fact. This business in Pomeroy is the only restaurant in Garfield County that is open 24/7. The Bartels said the money would help pave the parking lot they were in and expand their catering business.
Cole Walking Eagle, owner of Walking Eagle Mobility, was next. This business combines customizable power and manual wheelchairs to improve the quality of life for its customers. Walking Eagle said the funding will help it reach more customers and buy more wheelchair parts.
The final contestants, Laura Angulo and Madelyn Free of Worthfit Studio, told the judges how they would spend their $100,000. Angulo said there are currently 297 active members, but they are running out of space and can only have one group class. The funds will be used for new location upgrades that will expand the current space to three times her size. For Anglo, more space means more opportunities to host more classes like kickboxing and circuit training.
The judges then left their balcony seats to decide who would take home the night's top prize. Finally, after several minutes of tense anticipation, the host returned to announce the winner.
The $5,000 winners were Abundant Life Childcare, Chesed Farms, Evergreen Lawn Care, Oscar's Floor Covering, Rey's Roast, Tigers Drywall, and Walking Eagle Mobility.
Twisted Wire Coffee and Worthfit Studio each took home $25,000. Brian and Christy Bartels said the award means a lot to them and their business. "This allows us to continue expanding our mission in the community," the couple said.
Tobit Salazar of T Barbershop received a check for $50,000 to Walla Walla Barbering Academy. He said the award is a sign of Walla Walla's generosity and support. "This will take a long time," he said. "It takes a village to raise a child, but I am the gift of growing up in the friendliest town in America."
Kathryn Witherington closed the event with her closing remarks.
"Thank you to everyone who has joined us on this wonderful journey," Witherington said. "Come to us with your questions. Come to us with your dreams. Thank you for joining us for a wonderful night."
[ad_2]

Source link