[ad_1]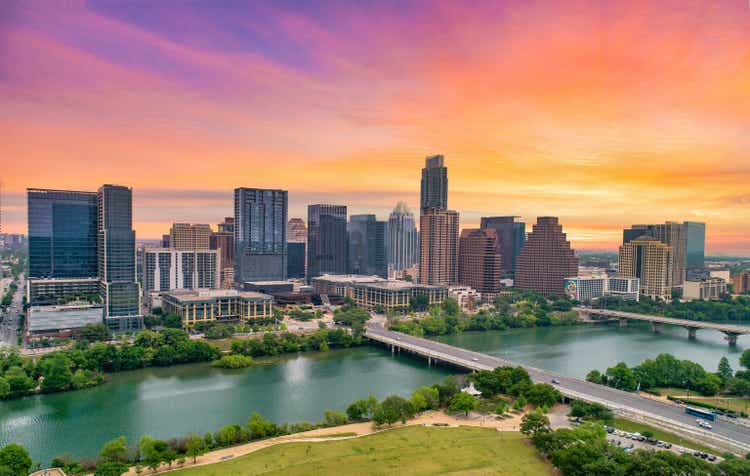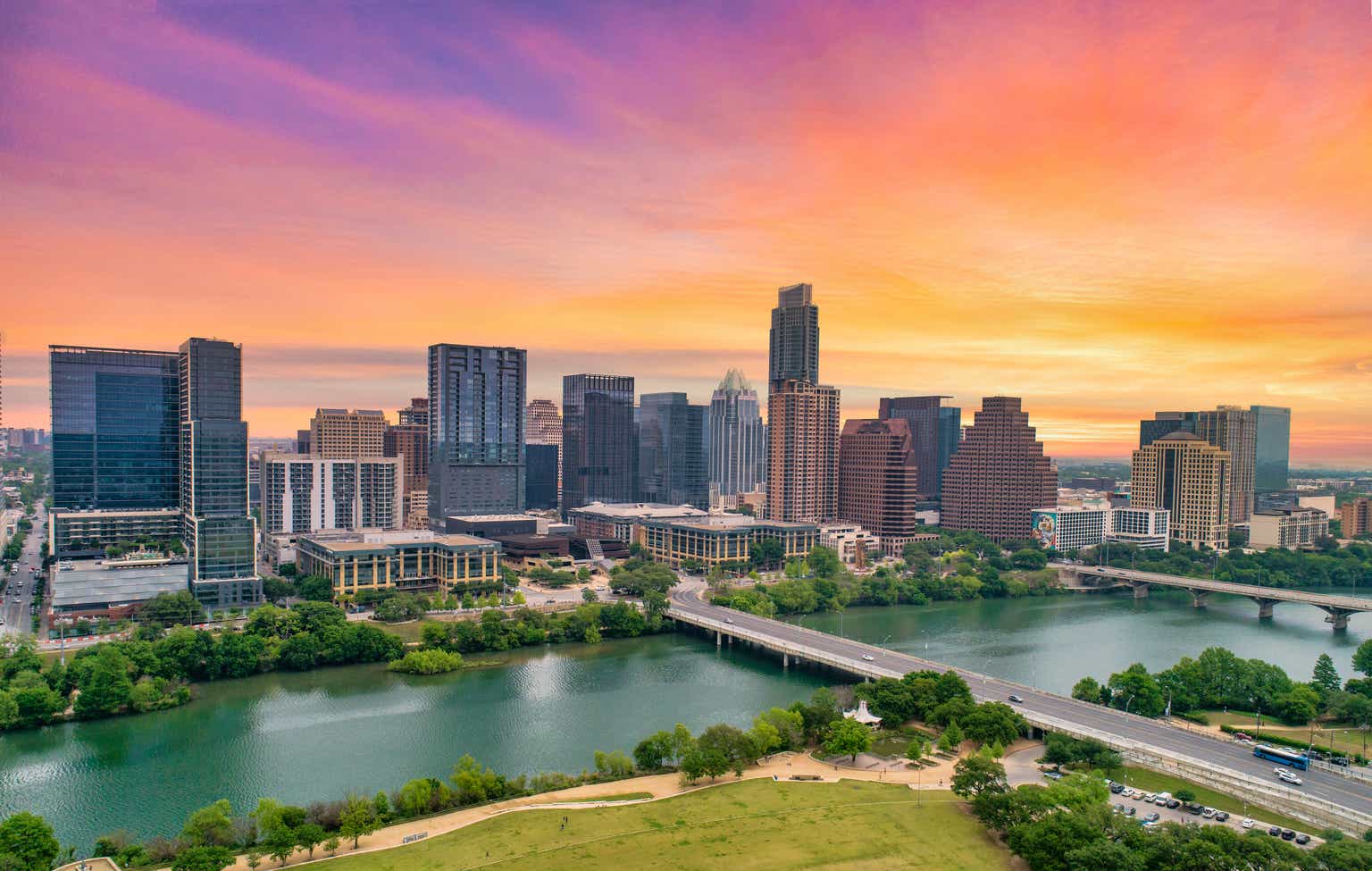 Real Estate Weekly Outlook
This is an abridged version of the full report and rankings published on Hoya Capital Income Builder Marketplace on March 3rd.
U.S. equity markets rebounded following their worst week of the year as investors parsed data showing surprising – and perhaps stubborn – resilience in global economic activity this winter despite stiff interest rate headwinds. A confluence of business survey data this past week pointed to a clear reacceleration in global economic growth in early 2023 – but without a corresponding reacceleration in inflation – with the Global Composite PMI climbing into the expansion-territory first time in seven months while costs rose at the second-slowest rate in over two years.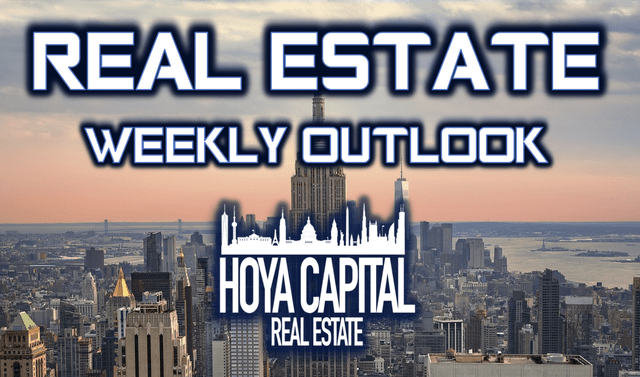 Snapping a three-week skid and notching its best week since late January, the S&P 500 advanced 2.0% this past week, while the tech-heavy Nasdaq 100 rallied nearly 3%. Real estate equities were mixed as earnings season concluded with a handful of notable reports and M&A developments. The Equity REIT Index advanced 1.4% with 12-of-18 property sectors in positive territory, but the Mortgage REIT Index declined 1.8%. Homebuilders were a bright spot on data showing a thawing of housing market activity in February with Pending Home Sales jumping by the most since June 2020 while Redfin's Homebuyer Demand Index climbed to the highest level since September.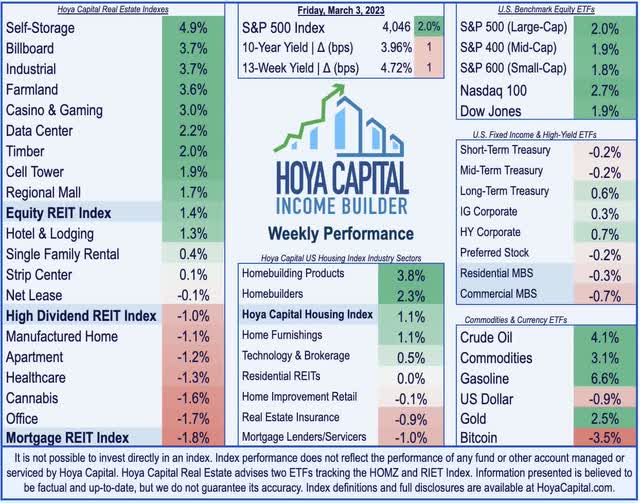 Ahead of a critical slate of employment data next week, the choppy week for equities came alongside similar volatility in bond markets as the benchmark 10-Year Treasury Yield briefly surged to a four-month high of 4.09% before retreating later in the week to close back below 4%. The more policy-sensitive 2-Year Treasury Yield climbed to its highest level since 2007 following a wave of hawkish commentary from Fed officials early in the week. Strong PMI data across Europe and Asia helped to reverse some of the months-long downward pressure on commodities prices this week as Crude Oil futures jumped more than 4% while Gasoline prices advanced over 6%. Stateside, nine of the eleven GICS equity sectors were higher on the week, led to the upside by materials, industrials, and energy stocks.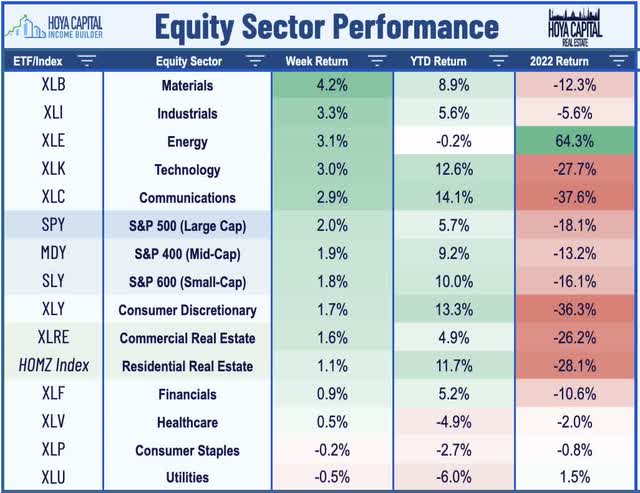 Real Estate Economic Data
Below, we recap the most important macroeconomic data points over this past week affecting the residential and commercial real estate marketplace.
Equity REIT Week In Review
Best & Worst Performance This Week Across the REIT Sector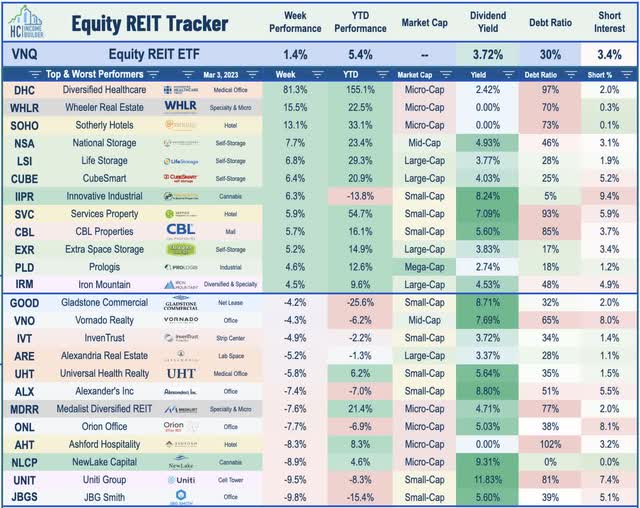 With REIT earnings season winding down this week, we published our REIT Earnings Recap, which we split into two reports: In Winners of REIT Earnings Season, we noted that rising rate concerns overshadowed a surprisingly strong slate of reports across most property sectors. Roughly two-thirds of REITs beat earnings expectations, the third-best among the 11 industry groups tracked by FactSet. Bifurcation is back, however, and after delivering broad-based double-digit earnings growth in 2022, headwinds from cooling aggregate demand, variable-rate debt expenses, property taxes, and labor costs will hit some REITs harder than others. Our primary focus this earnings season was on 2023 FFO guidance. Residential and Industrial REITs were upside standouts, forecasting mid-single-digit growth. Dividend sustainability was also in focus, and we've been scouring through earnings calls to glean insights into the outlook for dividend hikes – and in some cases, dividend cuts – this year. We've seen 37 REITs hike their dividends this year, but have also seen 8 REITs announce or indicate a dividend reduction.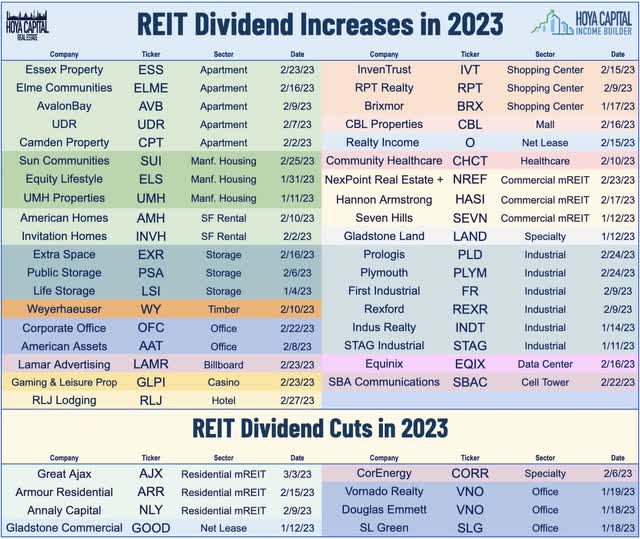 In Losers of REIT Earnings Season, we focused on the worst-performing property sectors and common threads shared by these laggards. While there were upside standouts and impressive reports among some individual names within these lagging property sectors, the losers of REIT earnings season included: Office, Technology, Net Lease, Regional Malls, Public-Pay Healthcare, and Specialty REITs. A significant rise in interest rate expense was the common thread seen across many of these sectors – nearly all of which are among the more highly-levered property sectors. REITs that 'gambled' with high levels of variable rate debt have been forced to either ride out the volatility and hope for some rate relief, or to fix their interest rate exposure using hedges and/or new bond issuance – usually at a high cost. The direct FFO impact from interest rate changes alone amounted to 5-10% across these more-highly-levered sectors, while some REITs at the top of the leverage spectrum expect as much as a 30% hit to 2023 FFO from higher rates.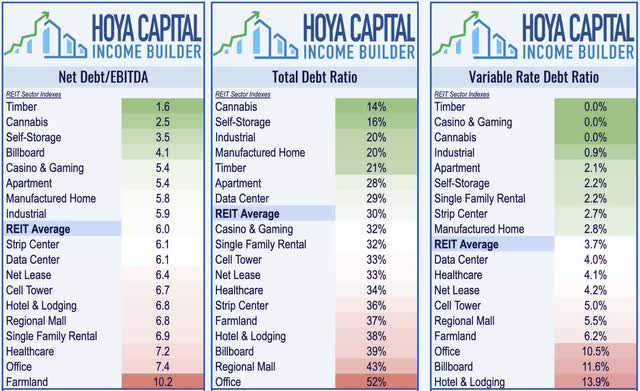 Office: These trends were on full display in the office sector, where REIT results weren't particularly awful, but it has been the dismal news flow in the more-highly-levered private markets that have dominated the discussion, including another mega-size loan default on an office property this week from Blackstone (BX), which defaulted on a $562M bond backed by a portfolio of Finnish offices and retail properties. Over the past two weeks, we've seen a handful of these mega-sized loan defaults from Pimco, Brookfield, and RXR – where variable rate mortgage debt – and a lot of it – was the common thread. The concerning news from BX came the same week that its flagship privately-traded real estate fund – Real Estate Income Trust – announced that it hit its monthly redemption limit, yet again in February, fulfilling just a third of the funds that were requested by investors. February marked the fourth straight month that BREIT hit its redemption limit, which is capped at 2% of net asset value ("NAV") in any month. JBG Smith (JBGS) also had a tough week on reports that Amazon (AMZN) is pausing some construction activity on its HQ2 headquarters in Virginia, which is being developed by JBGS.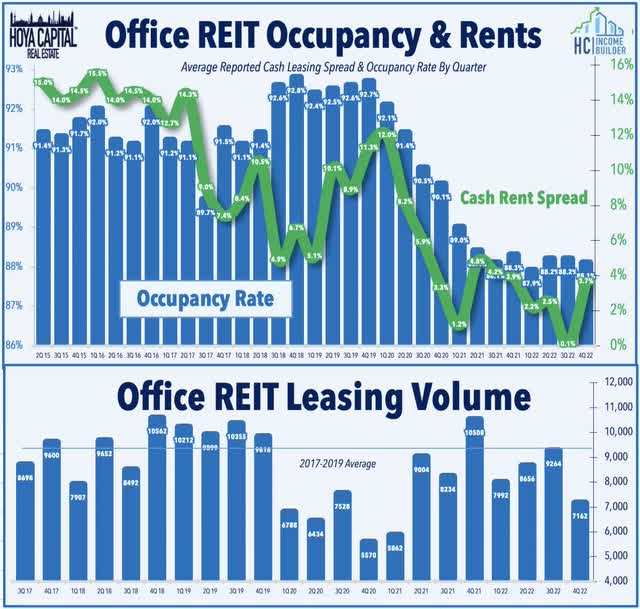 Healthcare: Leverage can work in both directions. Diversified Healthcare (DHC) – which plunged nearly 80% last year – soared 80% this week after reporting decent fourth-quarter results driven by a recovery in its Senior Housing Operating ("SHOP") portfolio, extending its year-to-date gains to over 150%. This year's rally for DHC – which is externally advised by RMR Group (RMR) – has been fueled in part by the acquisition of DHC's largest tenant – AlerisLife (ALR) – by ABP Acquisition, an affiliate of RMR Group, at an 85% premium to its prior close. DHC owns a 32% stake in ALR and agreed to tender its shares. While DCH's balance sheet is as highly-levered as any REIT, property-level fundamentals have improved considerably in recent quarters, confirmed by results and commentary earlier this earnings season from Welltower (WELL) and Ventas (VTR), which both forecast robust double-digit NOI growth in their SHOP segments. DHC noted that it was able to raise senior housing monthly rents by nearly 9% while simultaneously improving occupancy by 380 basis points, driving a 14% increase in comp revenues.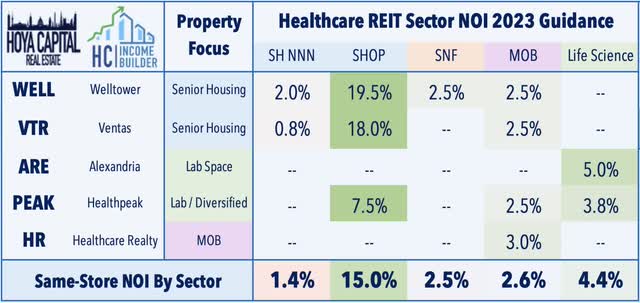 Hotels: Another name that pushes the leverage limits, Sotherly Hotels (SOHO) surged 13% this week after reporting solid fourth-quarter results driven by "sustained strength for leisure travel, coupled with growing demand for group and business travel" and providing an upbeat outlook for 2023. SOHO reported that its Revenue Per Available Room ("RevPAR") recovered to within 0.5% of pre-pandemic 2019 levels in Q4 despite some weather-related impacts in November, and sees strong similar relative performance in early Q1. One of the best-performing REITs this year, SOHO's rebound was driven by the reinstatement of its preferred dividends, which had been suspended since the pandemic. Xenia Hotels (XHR) rallied nearly 4% on the week after reporting strong results, noting that its RevPAR was 0.6% above its 2019-comparable – and reported strong demand trends in early 2023. XHR expects RevPAR growth of 6.0% for full-year 2023 at the midpoint of its range – roughly in-line with its peers, and noted that it has seen a "transition from a leisure-driven recovery to a more traditional mix of leisure, business transient and group demand." Recent TSA Checkpoint data shows relatively strong demand trends in early 2023 with both January and February exceeding pre-pandemic levels.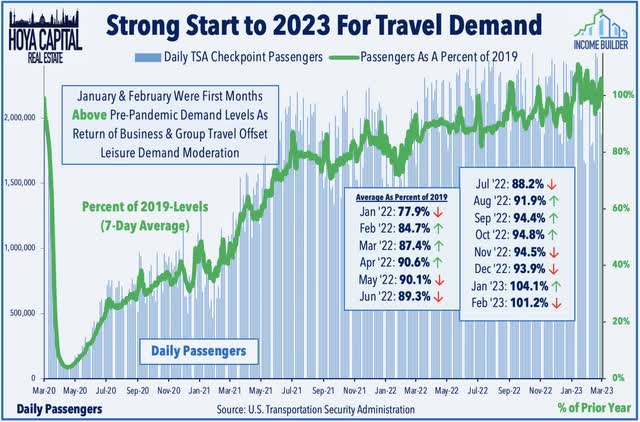 Storage: National Storage (NSA) – which we own in the Focused Income Portfolio – rallied nearly 8% this week after reporting solid results, noting that its full-year 2022 FFO rose 24.3% – matching its prior guidance – while its full-year NOI rose 14.9%, which was 40 basis points above its prior outlook. For NSA – which trades at discounted multiples to its larger peers after dipping nearly 50% in 2022 – guidance calling for slightly positive FFO growth in 2023 was an upside surprise given its relatively high variable rate debt exposure, the majority of which was fixed during the quarter via an interest rate swap agreement. Elsewhere in the storage sector, Life Storage (LSI) – which we own in the Dividend Growth Portfolio – rallied nearly 7% this week on speculation that the cancellation of its appearance at Citi's annual property CEO conference next week may indicate that it's getting closer to a deal with Public Storage (PSA), which last month proposed an all-stock $11B acquisition of LSI at an implied valuation of roughly $128/share based on Friday's closing prices, which was rejected by LSI citing "undervaluation."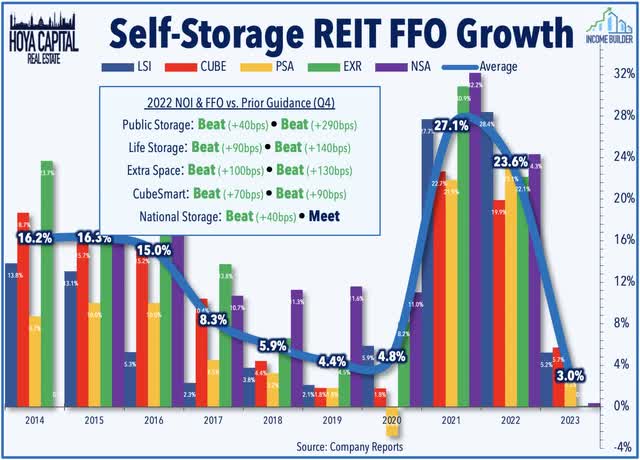 Cannabis: Also on the upside this week, Innovative Industrial (IIPR) rallied 6% after reporting decent results and indicated that rent collection issues haven't spread beyond the previously-announced subset of tenant operators. IIPR reported that it collected 92% of rents in February – consistent with its collection rate in the prior month, which was reported in its January 18th business update that sparked a 25% sell-off over the subsequent week. IIPR failed to collect $4.7M of total February monthly rent from four tenants – Kings Garden, Vertical, Green Peak, and Parallel – and noted that it's in various stages of negotiations and/or restructurings with these tenants. Importantly, there were no indications of worsening issues with three tenants noted in its January update – Holistic, Calyx Peak, and Sozo – for which IIPR had to apply security deposits to cover part of the owed rent. As discussed in Cannabis REITs: Smoked Out, IIPR has slammed over the past year amid concern over defaults from their cannabis cultivator tenants, which have been smoked by plunging wholesale cannabis prices and setbacks on federal legalization. IIPR added further color, commenting that in the last week of 2022, cannabis spot prices are down nearly 30% from the same period.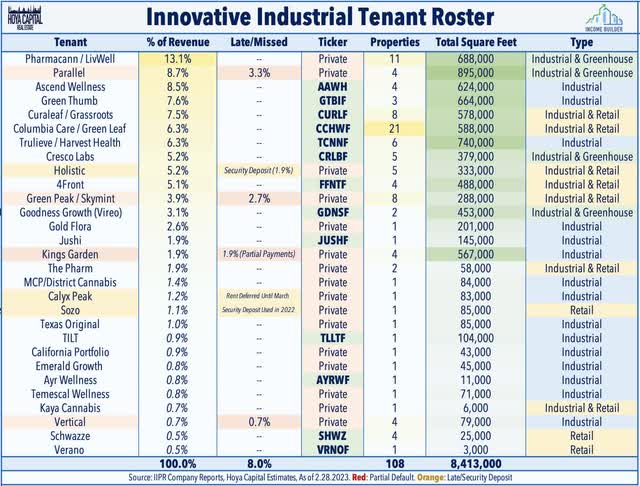 Single-Family Rental: Tricon Residential (TCN) was little-changed this week after reporting mixed results, noting that its full-year FFO increased by 33% in 2022 – consistent with its prior outlook – but provided guidance that calls for a reversal of all of that gain for full-year 2023 due to significantly higher interest rate expenses resulting from its heavy variable rate debt exposure. Consistent with results from Invitation Homes (INVH) and American Homes (AMH), single family rental property level fundamentals remained very strong in late 2022 and into early 2023, highlighted by blended rent growth of 7.4% in Q4 and 7.3% in early Q1, which is expected to drive a nearly 7% increase in same-store NOI growth for 2023, well above the 4.5% expected rate of its two larger peers. TCN noted that 29% of its debt is floating-rate – among the highest in the REIT space – driven in large part by its aggressive acquisition strategy that was financed primarily with short-term variable rate debt. Acquisition activity is expected to slow significantly from its 2022 haul of 7,227 home purchases to a range between 2,000-4,000 in 2023.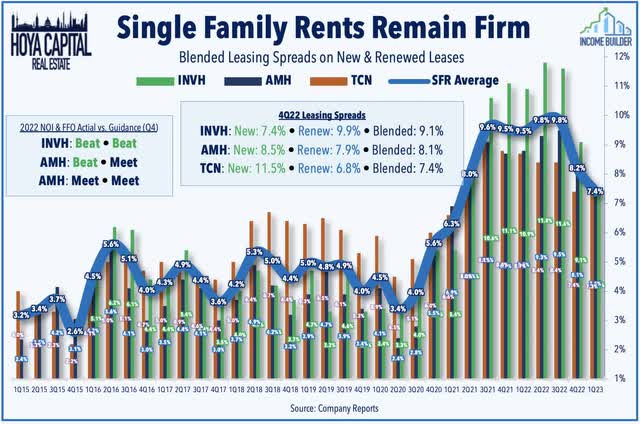 Manufactured Housing: Identical themes were on display for the smallest of three MH REITs. UMH Properties (UMH) dipped 3% this week after reporting mixed results, noting that its full-year FFO declined 2.3% in 2022 as higher financing costs and higher property-level expenses offset another relatively strong year of revenue growth. UMH noted that its same-store expenses were up 10.2% in 2022, driven by large increases in property tax and payroll increases. UMH provided limited formal guidance for 2023, but did comment that it expects same-store expense growth to "normalize" to a range of 6.5% to 8.5% range, but still expects NOI growth in the "high single digits." While UMH has been working to improve its balance sheet in recent years, the firm still a debt ratio near 40% – double that of its peers – with about 20% of this debt subject to variable interest rates. UMH expects to raise rents by 5% in 2023, slightly below the expected 6.5% increase from Equity LifeStyle (ELS) and the 6.3% expected increase from Sun Communities (SUI).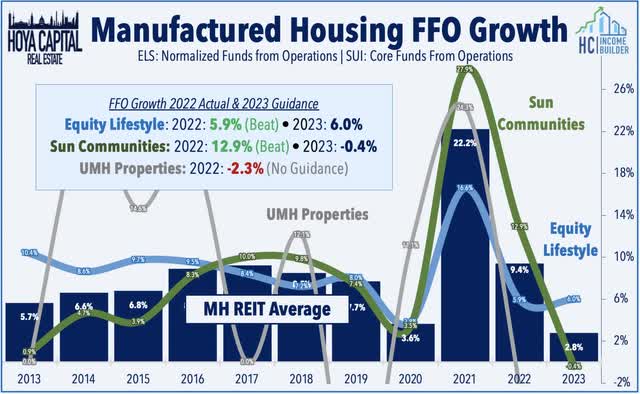 Healthcare: Medical office REIT Healthcare Realty (HR) traded flat this week after reporting mixed results, noting that its full-year FFO declined 1.2% in 2022 – roughly in line with expectations. While HR did not provide FFO guidance 2023, it did provide relatively upbeat commentary and noted that it expects its same-store NOI to accelerate to 3.0% for the year at the midpoint of its range, up from 2.6% in 2022. HR commented that "MOB fundamentals remain favorable with robust demand for outpatient facilities…we see green shoots that inflation pressure and labor costs are easing, especially for health systems." Global Medical (GMRE) also traded flat after reporting in-line results, recording full-year FFO growth of 3.2% in 2022. While GMRE did not provide full-year FFO guidance either, it did note that it expects that its occupancy rate – which ended the quarter at currently at 96.5% – will be above 96% throughout the year. GMRE expects to slow its pace of acquisitions this year, commenting that it "saw a large number of opportunities in Q4, but opted to pass as we saw nothing compelling giving our cost of capital."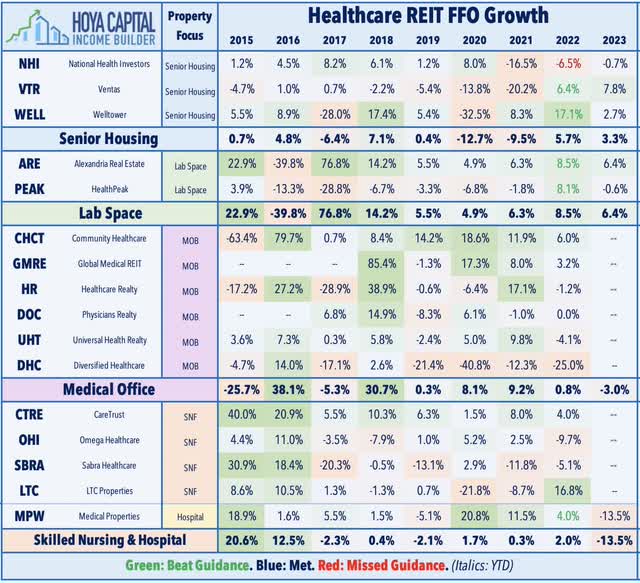 Mortgage REIT Week In Review
Mortgage REITs were laggards on a jam-packed week of earnings reports and M&A developments with the iShares Mortgage REIT ETF (REM) declining 1.8% – trimming its year-to-date gains to roughly 6%. Broadmark Realty (BRMK) surged more than 20% on the week after it agreed to be acquired by fellow commercial mREIT Ready Capital (RC) in a $787M all-stock at an implied value of $5.90/share – a 41% premium to BRMK's last closing price – but still a 15% discount to BRMK's tangible Book Value Per Share ("BVPS") of $6.99. BRMK – which focuses on residential construction lending – traded at the steepest discount to BV in the mREIT space after plunging nearly 60% last year amid a rise in loan defaults, which rose to 20% of its loan book in Q4. Ready Capital – which dipped 11% on the week – cited several benefits of the merger, including an immediate de-leveraging impact, meaningful expense synergies, and an expected accretion to FY2024 EPS by "low-to-mid teens." Upon the expected completion of the deal in Q2, RC shareholders will own roughly 64% of the combined company with BRMK stockholders owning 36%.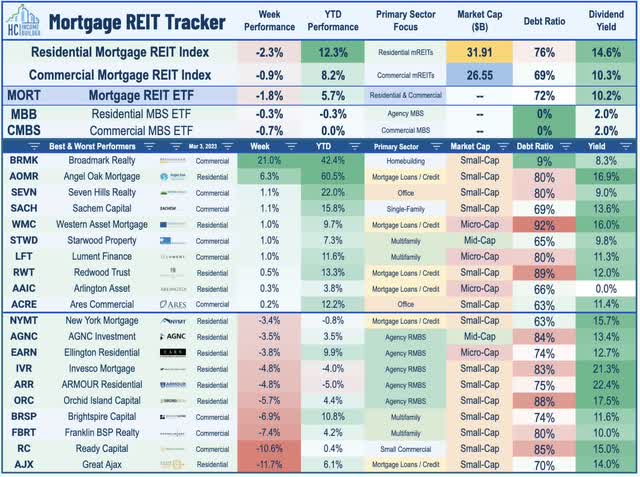 Starwood Property (STWD) was also one of the top-performers this week after reporting solid results, recording distributable EPS of $0.50 – covering its $0.48 dividend – and a fractional increase in its Book Value Per Share ("BVPS") to $21.70. A common theme across the commercial mREIT space, office exposure was the focus of the earnings call. STWD noted that its office exposure is 23% of its loan book – down from 38% in 2019. On the downside this week, Great Ajax (AJX) dipped more than 7% after it became the eight REIT to reduce its dividend this year, trimming its distribution by 7% to $0.25/share, representing a dividend yield of roughly 12% at the reduced rate. AJX noted that its Book Value Per Share ("BVPS") declined 5.5% for the quarter to $13.00 – among the weakest in the sector this earnings season. Elsewhere, BrightSpire (BRSP) dipped about 7% on news that DigitalBridge (DBRG) -the former external adviser to BrightSpire before its internalization – will sell the majority of its ownership – 30.4M shares – in BRSP.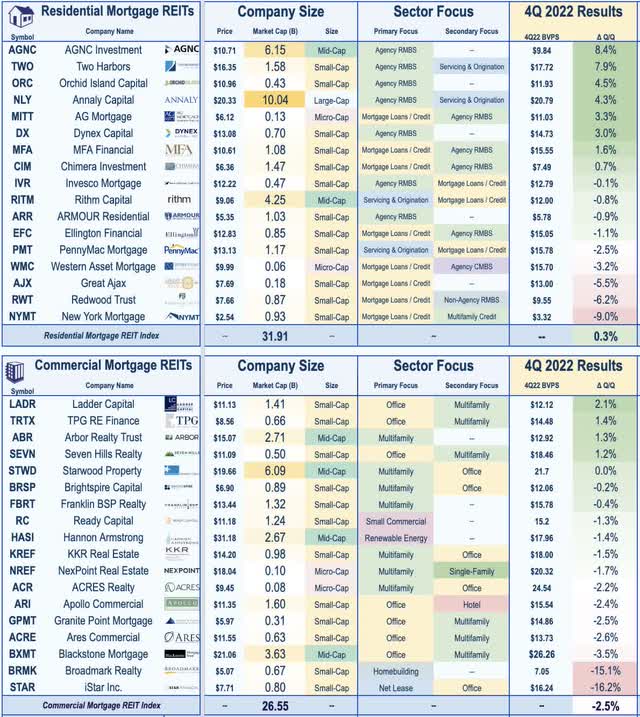 REIT Capital Raising & REIT Preferreds
After a historically quiet year of capital raising activity in 2022, REITs have returned to the primary markets in recent weeks with a common objective: reduce variable rate debt exposure. We saw two of the largest REIT capital raises of all time this past week. American Tower (AMT) raised $1.5B this past week through a dual-offering of $700M of 5.50% senior unsecured notes due 2028 and $800M of 5.65% senior unsecured notes due 2033 and intends to use proceeds to repay its revolving credit facility. Mall REIT Simon Property (SPG) also cracked the billion dollar mark, issuing a combined $1.3B in long-term bonds comprised of $650M of 5.5% notes due 2033 and $650M of 5.85% notes due 2053 and intends to use net proceeds to pay down variable rate debt. Elsewhere, net lease REIT Getty Realty (GTY) priced an underwritten public offering of 3M shares of common stock, raising gross proceeds of $100 million, and intends to use the net proceeds to fund property acquisitions and to repay its revolving credit facility.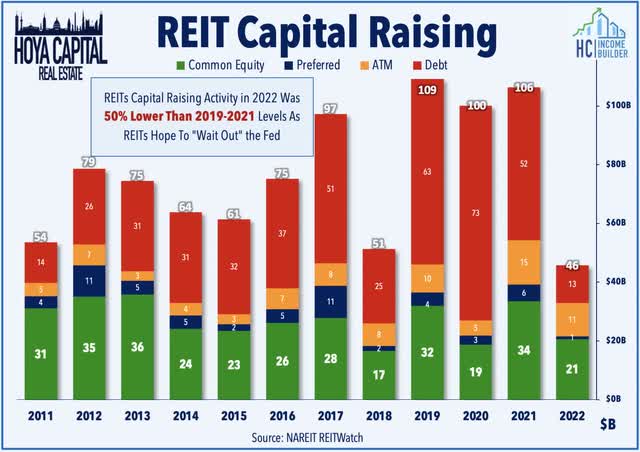 2022 Performance Recap & 2023 Check-Up
Through the first nine weeks of 2023, the Equity REIT Index is higher by 5.4% on a price return basis for the year, while the Mortgage REIT Index is higher by 5.7%. This compares with the 5.7% gain on the S&P 500 and the 9.2% advance on the S&P Mid-Cap 400. Within the real estate sector, 14-of-18 property sectors are in positive territory on the year led by Self-Storage, Hotel, Industrial, and Residential REITs. At 3.96%, the 10-Year Treasury Yield has increased 8 basis points since the start of the year – well above its closing low of 3.39% in early February – but still below its 2022 highs of 4.30%. The US bond market has stabilized following its worst year in history as the Bloomberg US Aggregate Bond Index has gained 0.2% this year.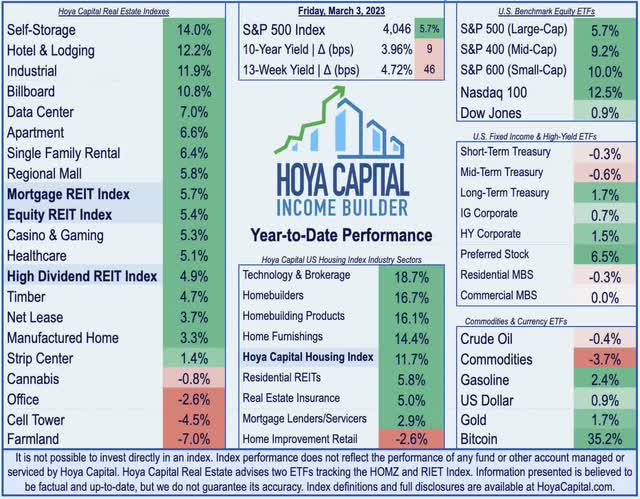 Economic Calendar In The Week Ahead
Employment data highlight a critical week of economic data in the week ahead headlined by JOLTS and ADP Payrolls data on Wednesday, Jobless Claims data on Thursday, and the BLS Nonfarm Payrolls report on Friday. Economists are looking for job growth of roughly 200k in February following the surprisingly strong month of January in which 517k jobs were added. 'Good news is bad news' will likely be the theme of these reports as investors and the Fed await the long-awaited cooldown in labor markets which has yet to fully materialize. The closely-watched Average Hourly Earnings series within the payrolls report – which is the first major inflation print for February – is expected to show a modest reacceleration in wage growth in February to 4.7% following an encouraging cooldown in January. Speaking of the Fed, investors will also be keenly focused on comments from Fed Chair Powell across two days of congressional testimony next week as part of the central bank's semiannual monetary policy report to the House and Senate.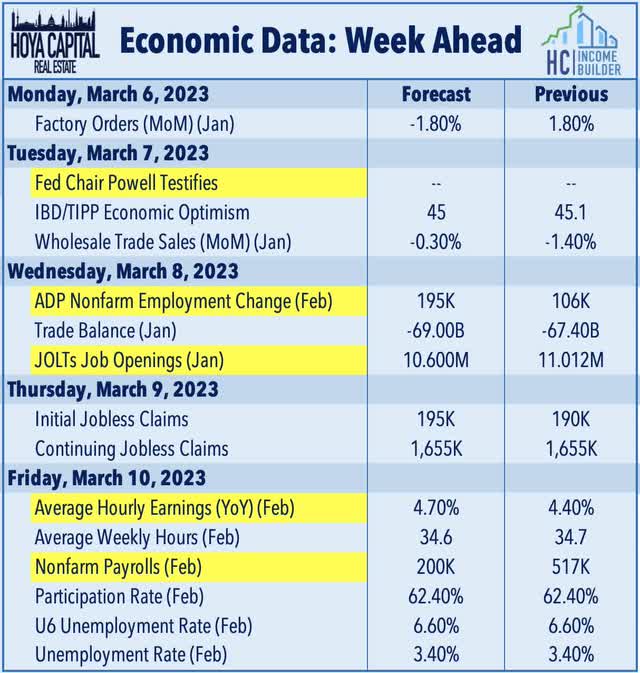 For an in-depth analysis of all real estate sectors, check out all of our quarterly reports: Apartments, Homebuilders, Manufactured Housing, Student Housing, Single-Family Rentals, Cell Towers, Casinos, Industrial, Data Center, Malls, Healthcare, Net Lease, Shopping Centers, Hotels, Billboards, Office, Farmland, Storage, Timber, Mortgage, and Cannabis.
Disclosure: Hoya Capital Real Estate advises two Exchange-Traded Funds listed on the NYSE. In addition to any long positions listed below, Hoya Capital is long all components in the Hoya Capital Housing 100 Index and in the Hoya Capital High Dividend Yield Index. Index definitions and a complete list of holdings are available on our website.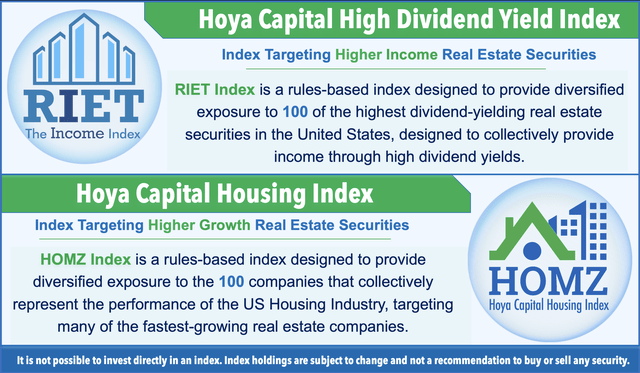 Editor's Note: This article discusses one or more securities that do not trade on a major U.S. exchange. Please be aware of the risks associated with these stocks.
[ad_2]

Source link